Hi everybody, I've logged on to show you some of my photos of Ranomafana National Park in Madagascar.
It's been really hard to whittle down two thousand photos to a manageable amount and it takes an age to upload them onto Photobucket; but once that's done it's so fast to put them into the journal page. I guess this site has it's good and bad points! I've also spent two and a half hours editing this, the photos seem to big and some are cut off. I'm fed up with it now so to see them in their entirety you can click on each one. Anyway, onto the rain forest. We had a great guide picked for us, he was so knowledgeable about the forest and wildlife here. He also told us that there are 115 species of birds there and he could imitate every one of them! He did a greatjob making mating calls of the differeent birds and getting them to come over nearer to us. It was nigh on impossible to get shots as the fo
rest was so dense, all I kept getting was photos of branches! His name was Teodor and he actually mananged to find the Greater Bamboo Lemur, there's only a few in the forest, they're one of the rarest lemurs in the world. Another rarity Teodor found for us was the Golden Bamboo Lemur.... he was expert at their mating calls too! So, on with the photos!There's a river which runs along the edge of this vast 43,500 hectare park, you have to cross the bridge to get into the park. This bridge was blown down in the cyclone but it's been rebuilt now.These strange fruits are eaten by lemurs.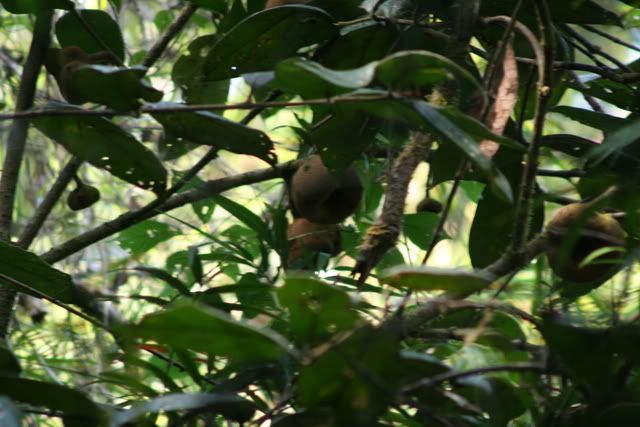 Here's our first lemur, a Golden Bamboo, a bit fuzzy but he was in a tree doing acrobats ~ I just had to wait for him to stay still for a minute so I could capture him!
We watched him for a while but he was hiding his face from us!
This is a Red Bellied Brown Lemur, he's not very visible, the trees were very dense.
The trees were just so tall and formed a good canopy to block sunlight!
These are a kind of fig that Teodor is pointing out. Brown Mouse Lemurs eat them.
More trees!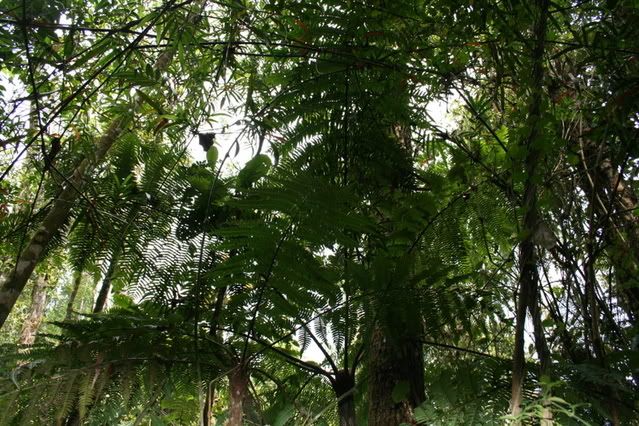 These are grave stones, Teodor told us that they're around five hundred years old and were the graves of the forest people. When Ranomafana first became a park there were people living in it naked. They've since been given a section of rain forest to live in which is out of bounds to visitors. They must have very tough feet to walk through there with no shoes!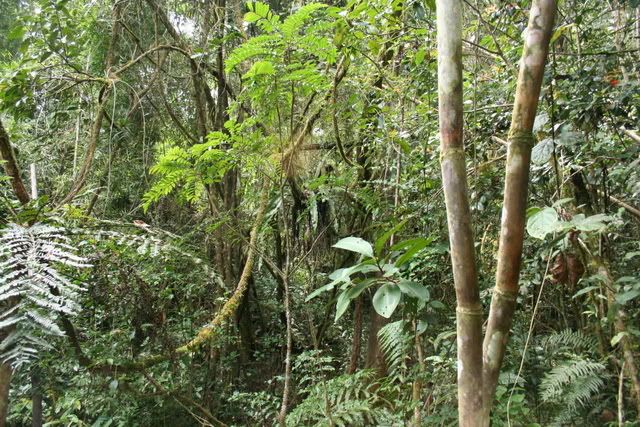 I thought this butterfly might have opened his wings for me!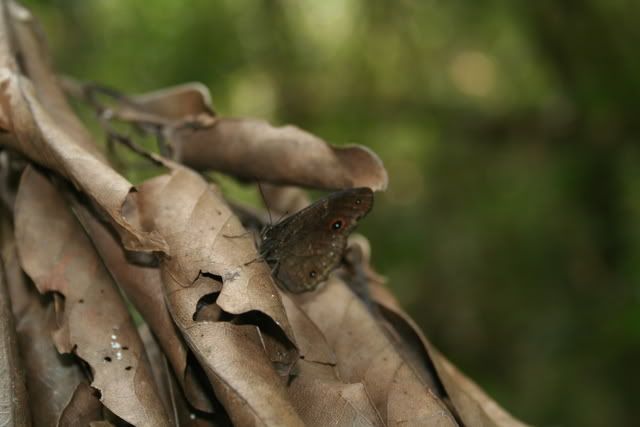 I saw this and thought of you Jan! Lol!
This is the Greater Bamboo Lemur chewing on a bamboo stalk. These are poisononous to other animals but the bamboo lemur has something in his stomach, nobody knows what yet, that counteracts the cyanide in the bamboo.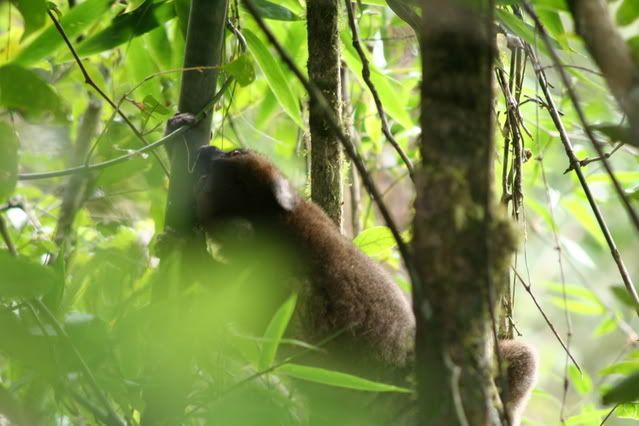 Look at that dear little face, he was totally unfazed by us watching and taking photos, he seemed to enjoy being a celebrity for a while! Lol!
Another chew on the bamboo!
He looks like he's eating a stick of seaside rock!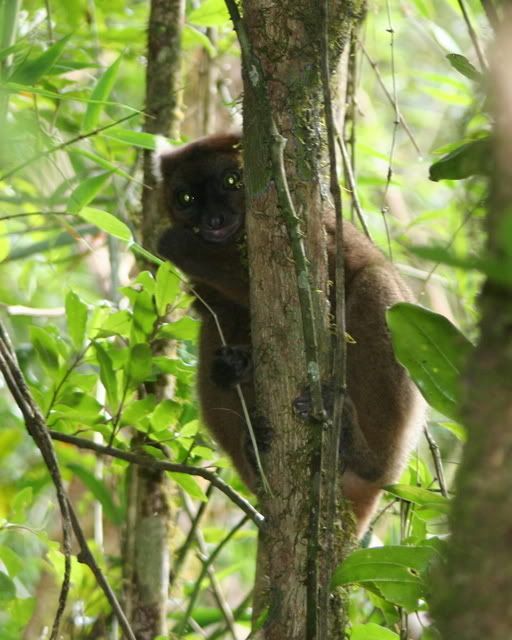 He was so sweet!
I thought the constant flas bulbs going off would frighten him but he's obviously used to it.... or maybe he was very hungry!
It was hard work getting through the undergrowth at times, plus there were a lot of muddy slippery banks to negotiate! Lucky I had good walking boots on!


I'd joked with Teodor that I needed a cup of coffee; he found this.... a wild coffee bush! Now all I needed was a kettle, cup and coffee pot! Lol!
There's something about an old rain forest, I've been to them in Borneo, Hawaii, Peru and Brazil. It's so peaceful in them, the modern world could be a million miles away!
This is called the Travellers palm as it holds water in it's trunk. It's the symbol of Madagascar and is on their bank notes. I'll show you a photo of the whole tree one day.
Rita and Stuart climbing down the steps. I was calling out to them what trees they shouldn't hold on to, some of them were very loose and you could pull them out of the ground. Not very good to steady yourself with!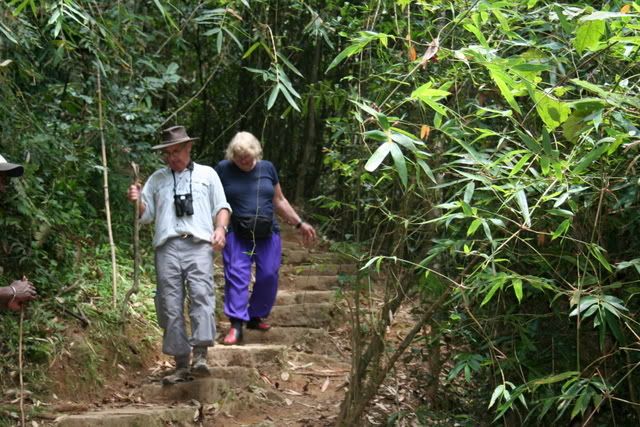 This beautiful creature is a Fossa or civet cat. He's not actually a cat at all but that's his common name! They're nocturnal, it was just getting dark and we found him curled up asleep. Teodor threw a few pieces of chicken to him to get him to come out, he duly obliged! He had the most beautiful coat and markings. They're the only predator in Madagascar and will eat lemurs.
Eating his meat!
He didn't seem to mind the camera either!
I think he's smelt some live prey that's just woken up!
Who me?! No, I'm not really a brown mouse lemur.... it's a disguise I swear! Honest!
I'm off! Don't want to end up as his supper!
This tree was laden with epiphytes clinging to the branches.

Left to right, Barry, Yvonne, Maureen, Teodor, Carol and me.
The view from our hotel lodge.
Can you see him in the centre of the photo?!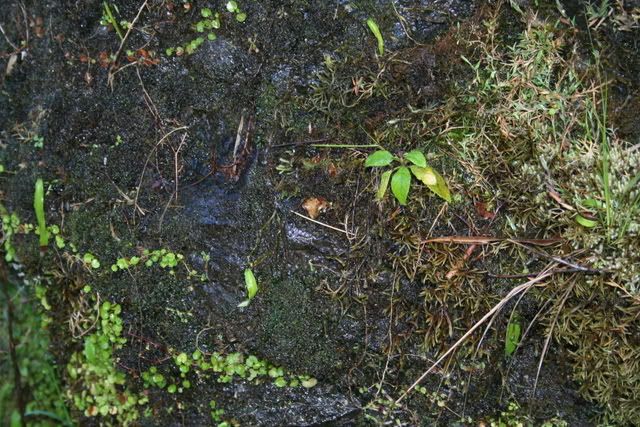 Here's a close up of him; he popped his little head out of the muddy bank to say hello!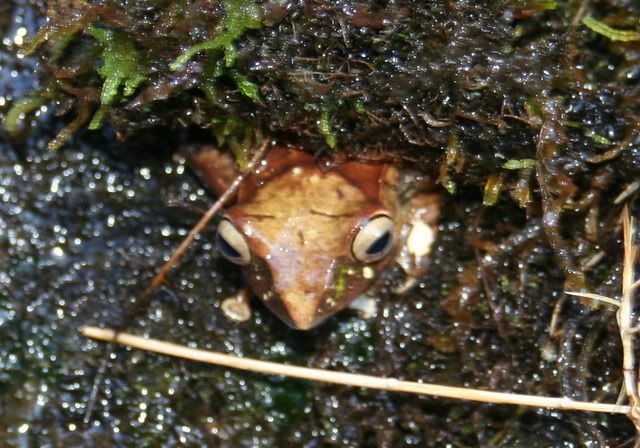 Trees near to our lodges.
This was my home for three nights. It was a lovely place but the only drawback was that there were constant power cuts. Sometimes as many as four in an evening!
So there concludeth the rainforest tour! We saw a lot more lemurs in the desert at Isalo National Park, our next destination. Isalo looks so much like the American mid west that I expected to see Rowdy Yates come riding by on his horse! Lol! You'll see what I mean when I post the pictures!
Have a great weekend and stay warm ~ here in the UK it's absolutely freezing out there!
I've just changed the layout here so the photos show up in their entirety and my side bar is now a bottom bar!