Sorry about the last post, blame AOL, they kicked me offline when I had all my photos up and the text done and ready to paste! I've been adding stuff to my sidebar including this rather pretty crystal clock I found last night. If I've got to stay here I want pretty stuff around me! I don't relish writing all this again but here goes, I thought we were free of the AOL gremlins here on Blogspot!As I was saying, on Wednesday 1st October at 5.30am my chauffeur driven S-Type Jaguar pulled up outside to take me to Heathrow. He and I had both been told we were going to Terminal 4 so off we went. He departed, I went to check in only to find I should be at Terminal 5. I had to go down escalators and get the Heathrow Express to Terminal 5 ~ taking two trains and wishing I didn't have so much baggage. I flew to Charles De Gaulle airport, Paris to be told my seat on the flight was cancelled! I was told to wait in the corner, I felt like a naughty girl! Nearly two hours later a man approached me and said he'd got my flight reservation re-booked for me. Off I flew to Madagascar, arriving there at 5am Thursday morning. Our tour group of thirteen waited for our luggage to come round on the carousel.... no show! It was still in Paris ~ had I said I wish I didn't have so much luggage?! I didn't mean it, honest! We located our tour manager, a lovely guy called Mohamed who proved to be an angel throughout the holiday. He took us all into baggage claims where we had to add our names to a form then he took us to our hotel assuring us that this had happened before and we'd get our luggage back sometime.
Antananarivo is a vast city, the capital of the country. On the roads are cars, lorries, buses, rickshaws and oxcarts being pulled by Zebu the native Ox of Madagascar. Would you believe that the traffic runs smoothly with no hold ups and not one single traffic light! A lesson to be learnt there! Mohamed took us to a supermarket where we all bought a couple of T-shirts, toothpaste, toothbrush etc to see us through. Our hotel is the tall building in the centre of the photo below. It's a Hilton hotel, they left bowls full of fresh mangoes and other fruit on each landing for guests to eat in their rooms.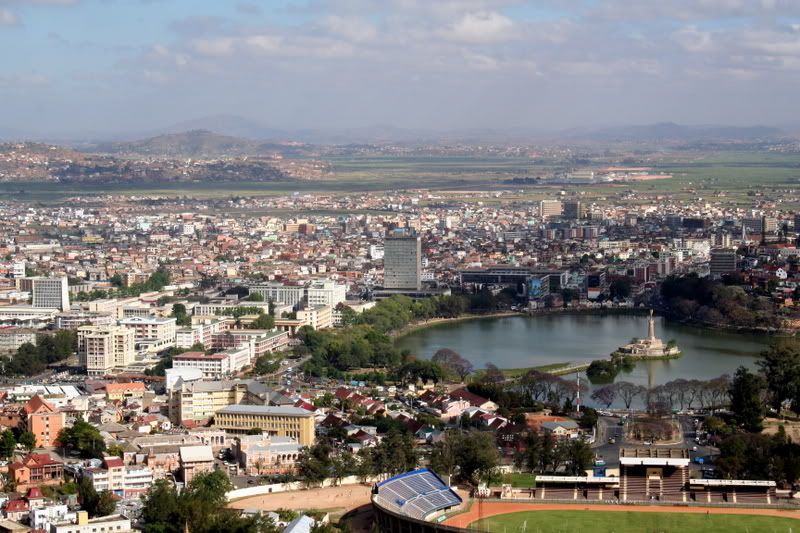 This is a butchers stall in Antananarivo. I'm not sure I'd trust the freshness of the meat with the temperature being almost 90F!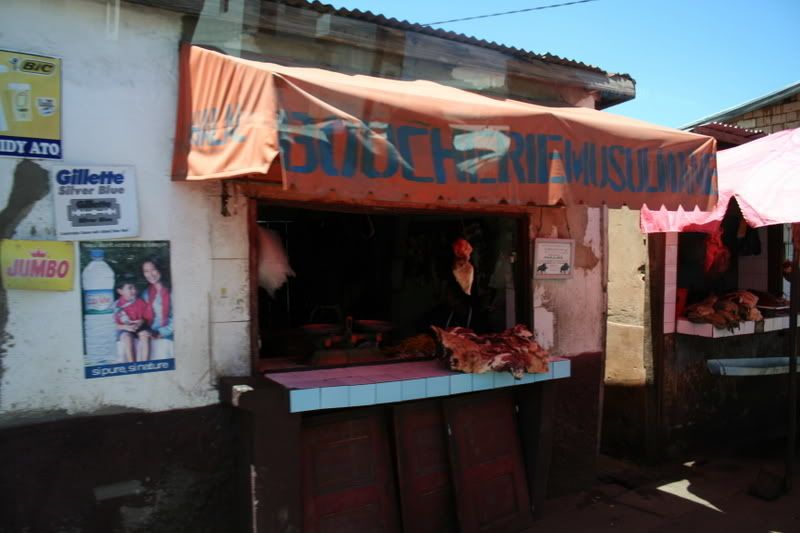 While there we visited a beautiful lake in the city, a haven for wild birds ~ flocks of egrets, herons, grebes, ducks, fist sized butterflies and the odd yellow billed kite flying overhead. It was so serene and beautiful, you wouldn't know you were in the middle of a bustling city!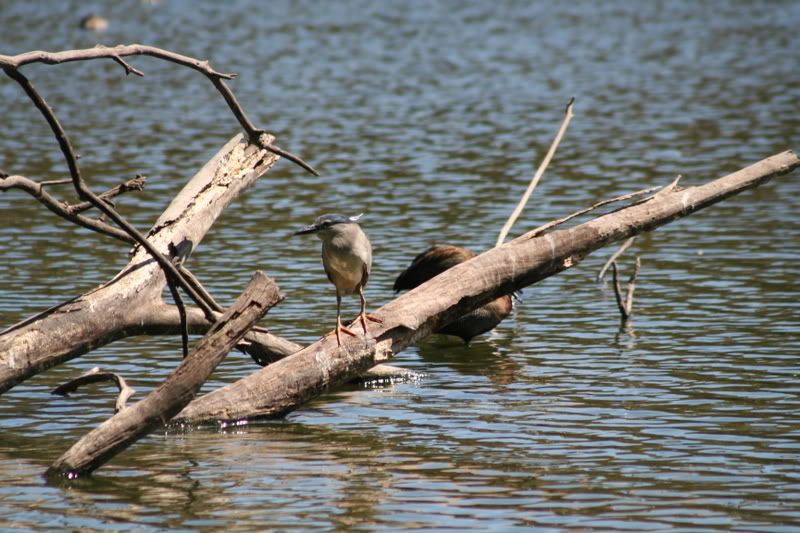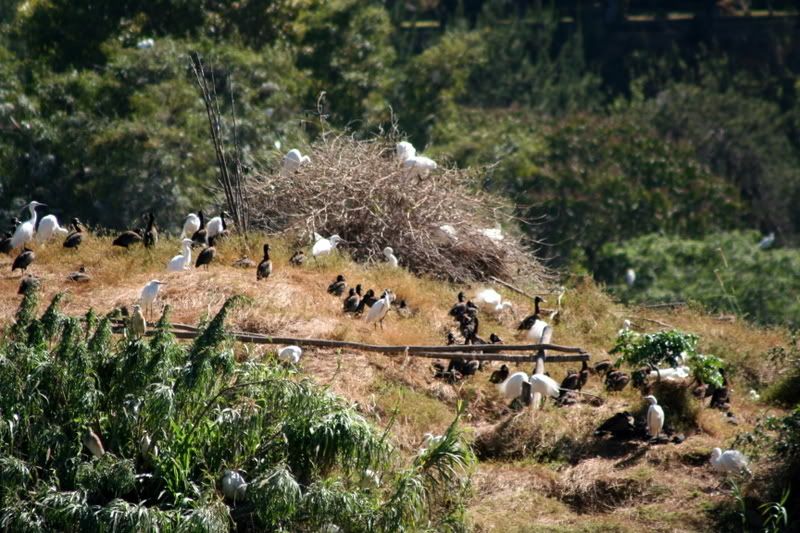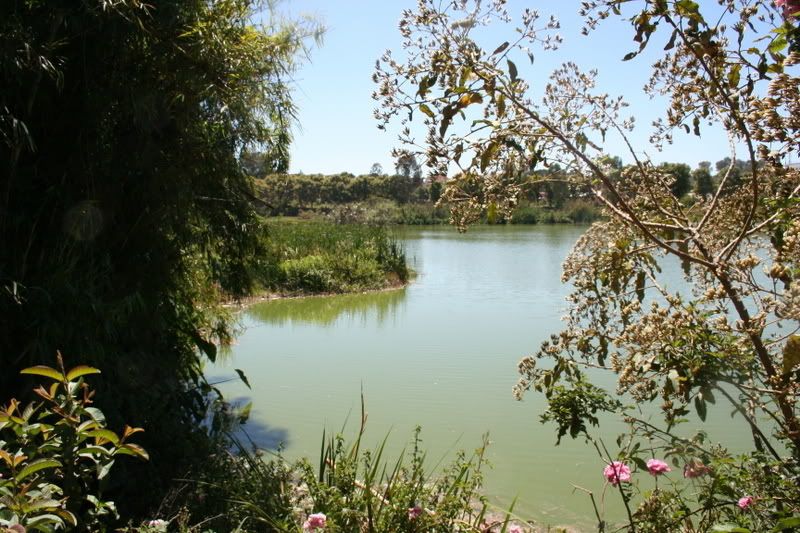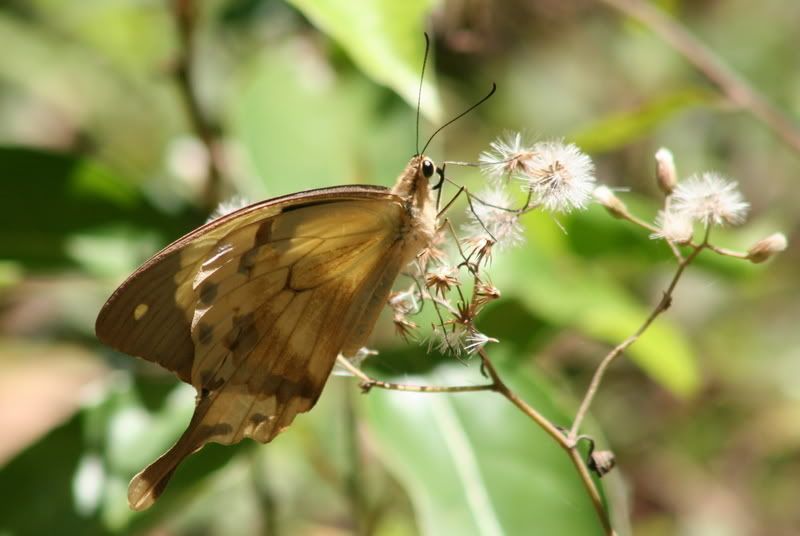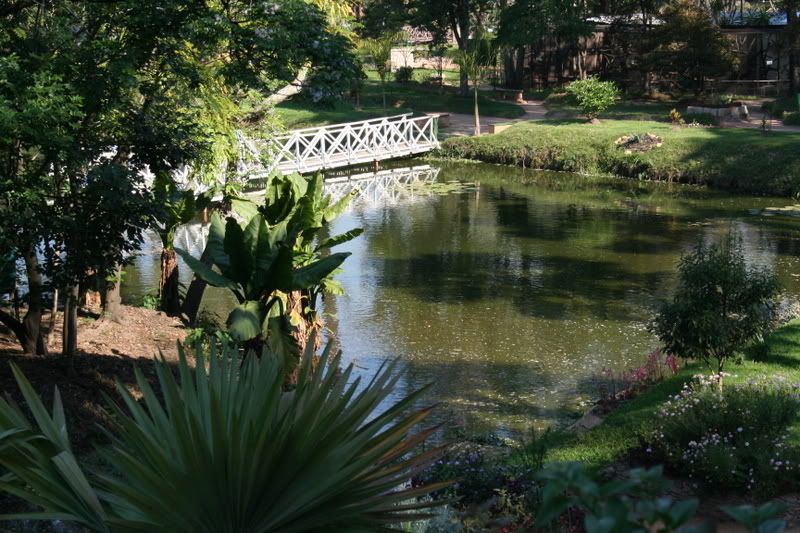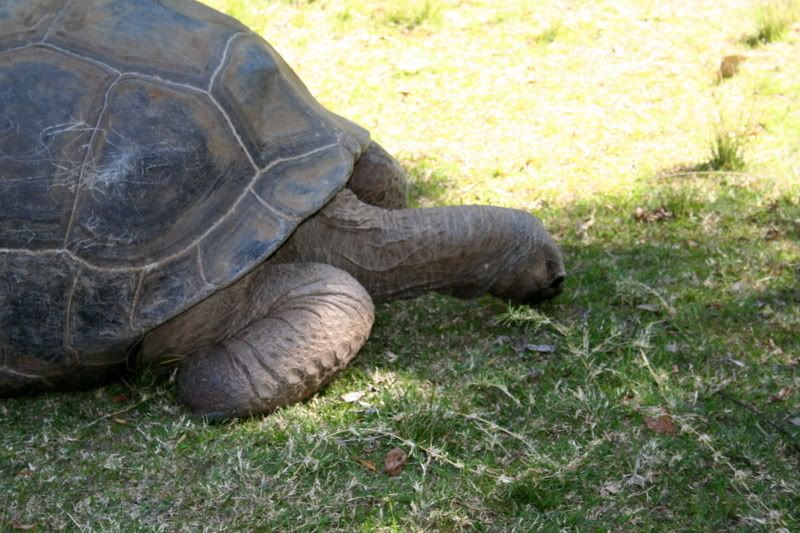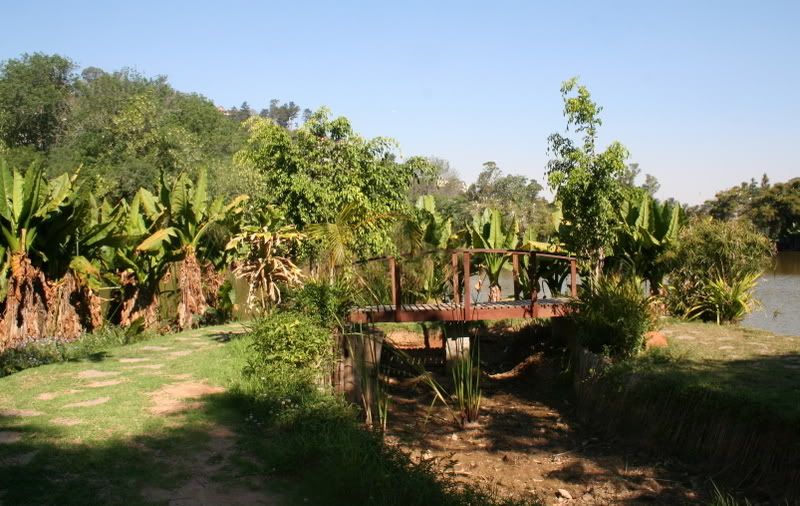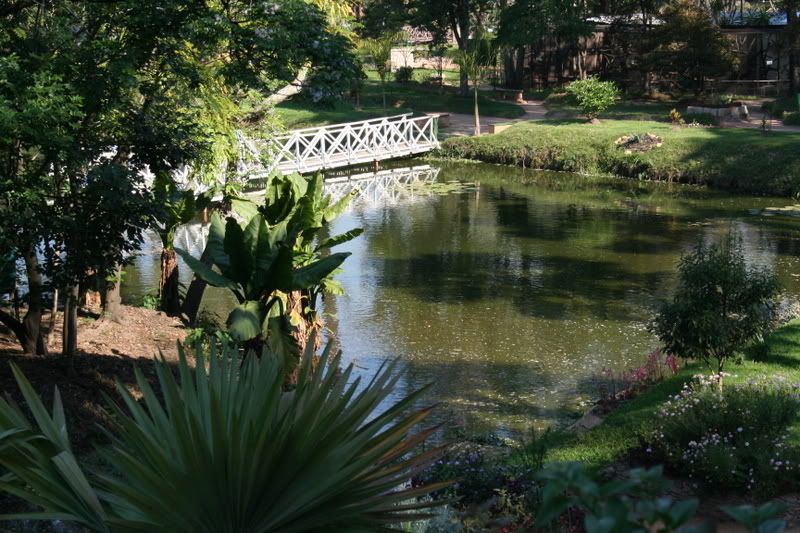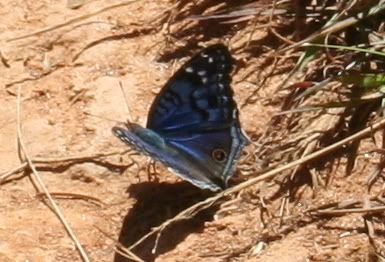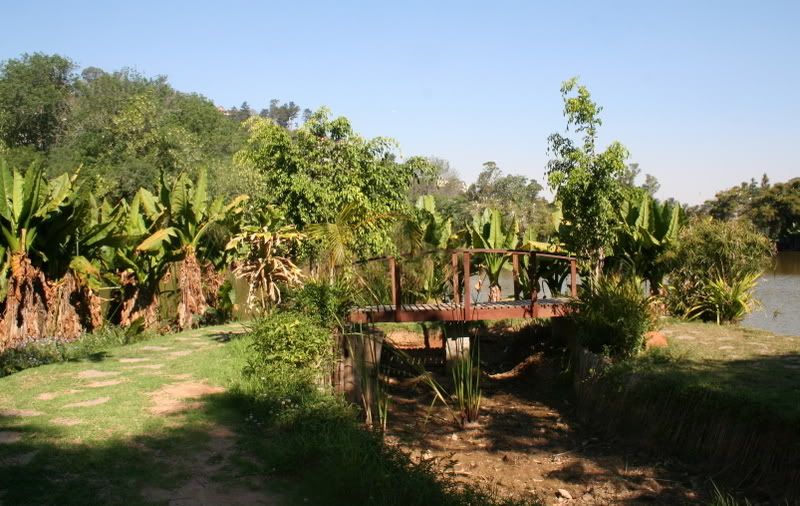 We also visited the cities' Botanical Gardens which has a small zoo and beautiful plants and a lake. On Saturdaymorning it was time to leave and make our way to Antsirabe. We left Mohamed behind as he was going to the airport to see if our luggage was on the next flight. There are three flights a week so we prayed it'd be there. When the temperature is so high you need a change of clothes. I'd got very inventive, I was washing my underwear and blow drying it with the hotel hairdrier! Lol! The only thing I really needed and couldn't replace was my battery charger for my camera. Luckily I'd charged it up before leaving home but I was relying on getting it back on Saturday evening or it'd mean no more photos.... too awful to even contemplate!We drove to Antsirabe, passing paddy fields, red brick villages and a lot of burial tombs along the way. There doesn't seem to be cemeteries, people are just buried in the countryside. Driving past a river we saw scores of people doing their laundry and hanging it on the bank to dry. If our luggage wasn't found quickly I could see us joining them! We visited a village and saw a lady making sisal rope using her leg to twist the cords. We also stopped at a place where they recycle aluminium, liquifying it and making new cooking pots. Fast forward to Saturday night....... we arrived at out hotel just past 6pm and saw a very welcome sight. Mohamed was standing at reception surrounded by our luggage! I was so excited to see it I jumped up and down squealing 'My case, it's my case!' while another lady in our group started dancing round hers. We were being watched very closely by a puzzled reception staff! ROFL! We hadn't seen them for 3½ days! If you're reading this Mohamed all I can say is thank you from the bottom of my heart, you saved my holiday from becoming a disaster, readers of this blog would never believe I'd gone if I hadn't brought back photos for them to see! Now the holiday could really begin, I charged my camera battery that night.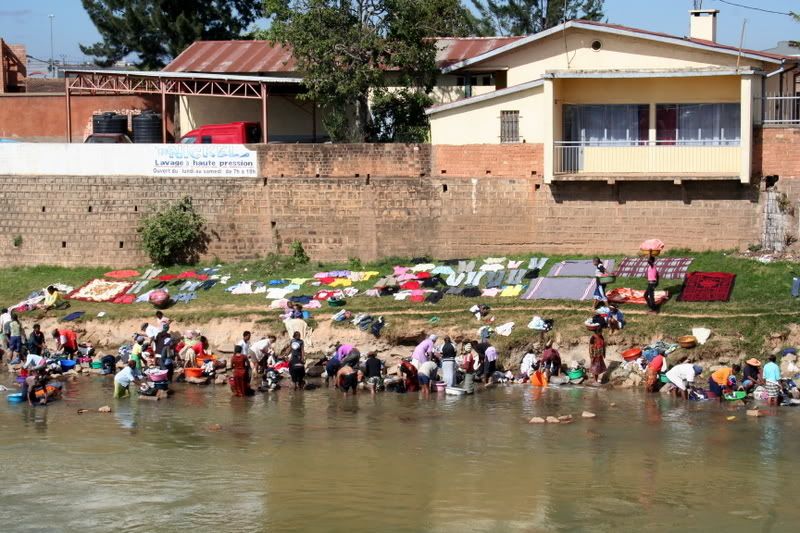 They did have beautiful views though and a wonderful sunny climate!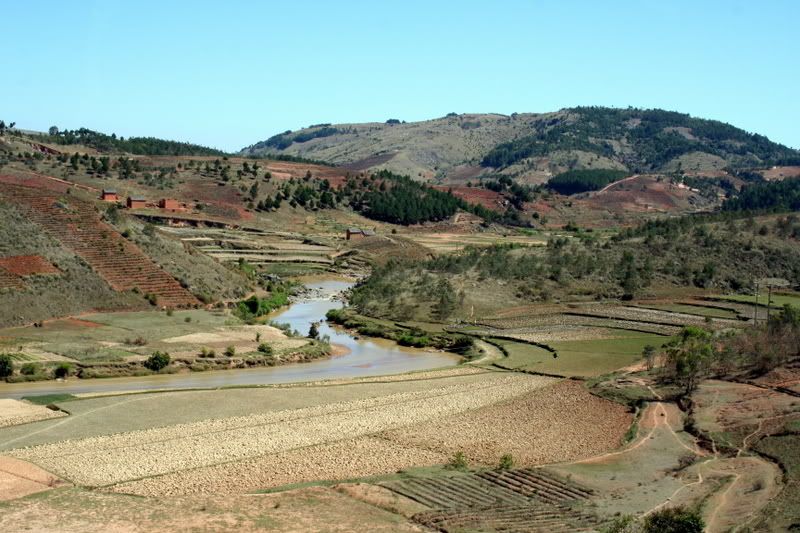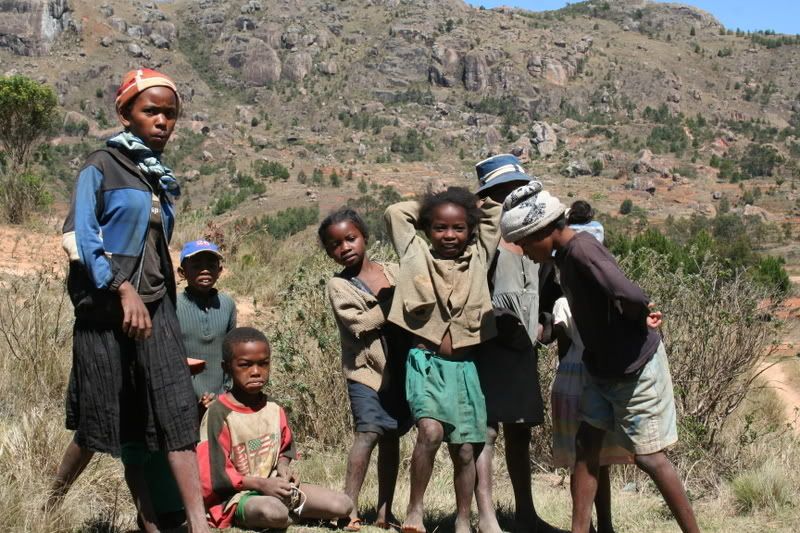 You can see from the next two photos where the people cook in their homes. They have no chimneys and the smoke coming from the upstairs windows where they cook blackens the surrounding brickwork.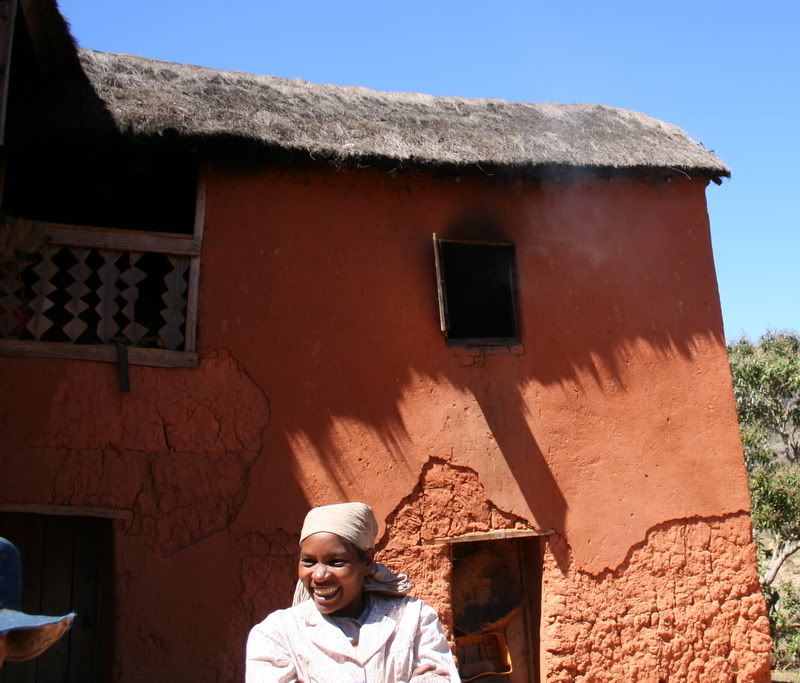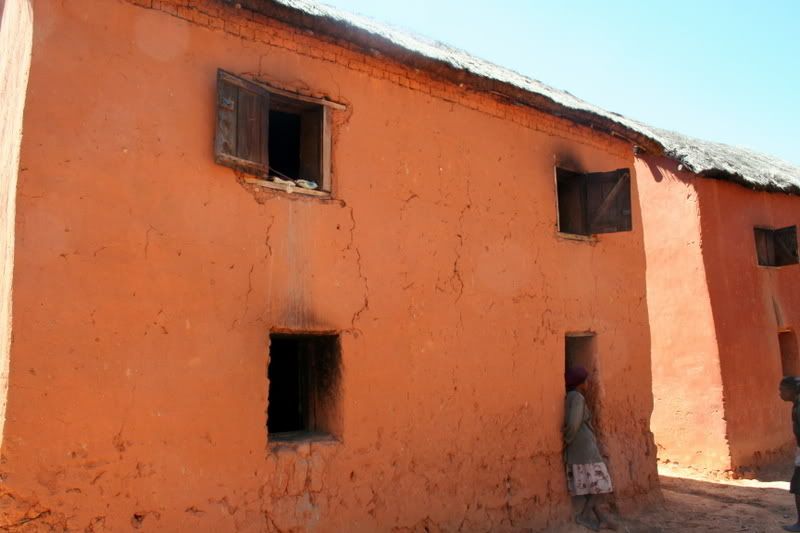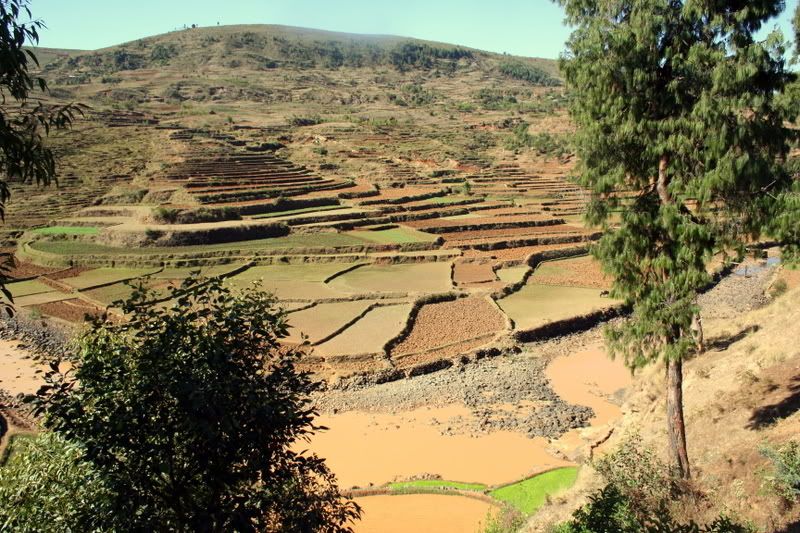 Here's the lady making rope, she did it in seconds!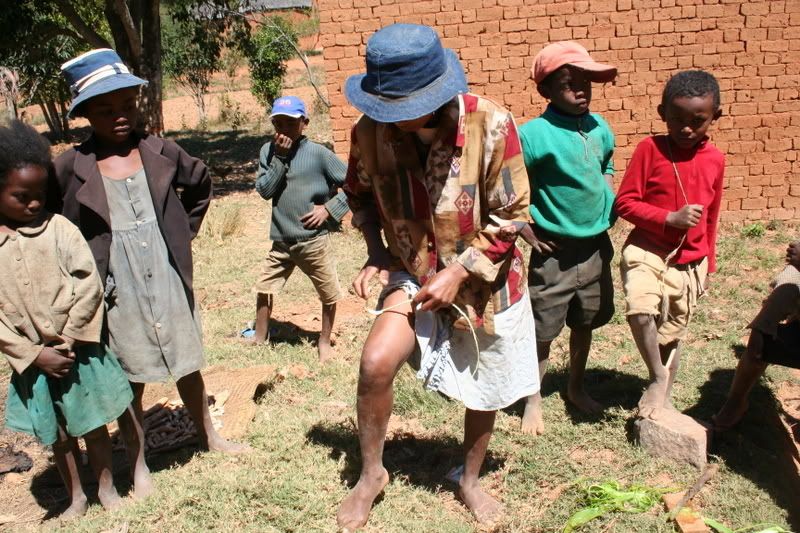 Our next destination was Ranomafana next door to the rain forest where we'd spot our first wild lemurs.