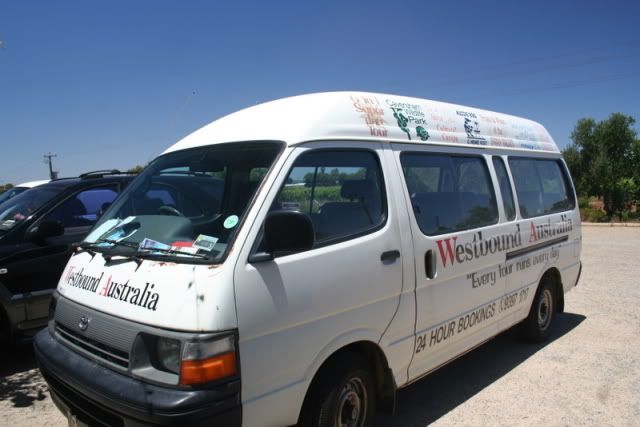 Hi everyone! Well, I actually had a day off today. When I went back to work on Monday I looked at my roster and saw they had actually booked me to work from Monday till Christmas day with no days off! I went in and asked my boss what was going on and did she really expect me to do twelve days in a row. We agreed I'd have a day off today~ my last one till Boxing Day! Oh well, I'll be able to save a bit more money for my next trip!
So, on to Australia. One of the days we booked up to do a tour of the Swan valley. We were picked up at our hotel by a lovely man called Ron who does these tours daily. He was a typical friendly Australian, outgoing and so proud to show us around his lovely country. There were only Andy and I and another couple on the tour that day. We set off early and drove up into bushland outside of Perth, it was another beautiful sunny day and we saw plenty of great scenery. that's
our tour bus above.
Our first stop was at Caversham Wildlife Park where we were able to feed kangaroos and go into the koala enclosure and stroke these darling little creatures! Oh, they were so beautiful. I'd never seen a koala move before, only seen them clutching onto a tree but these guys were running around, coming down from their trees to see us and generally being cute!
This first photo is one of my favourites. It looks like he's posing doesn't it?!

I love this very polite kangaroo coughing in her paw!!!!
This was my header photo last entry, I love their faces with that big rubbery nose! They were so friendly, I could have spent all day there.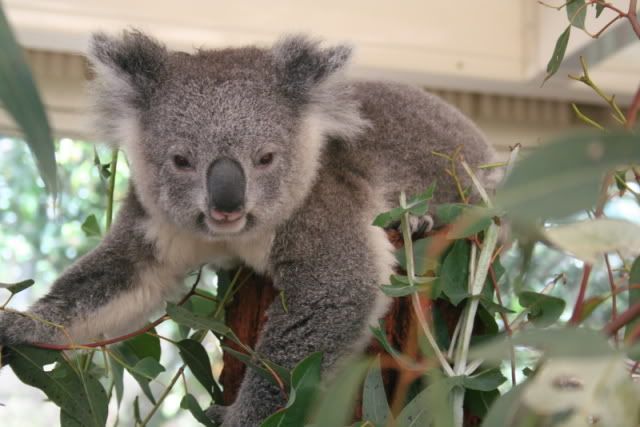 This one was doing his balancing act for us, they were real little show-offs! The keeper said they were lively that day as they'd just got there new supply of eucalyptus branches in.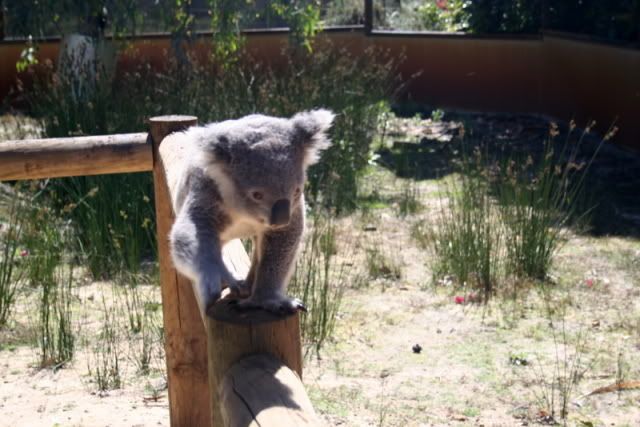 They're making short work of the branches!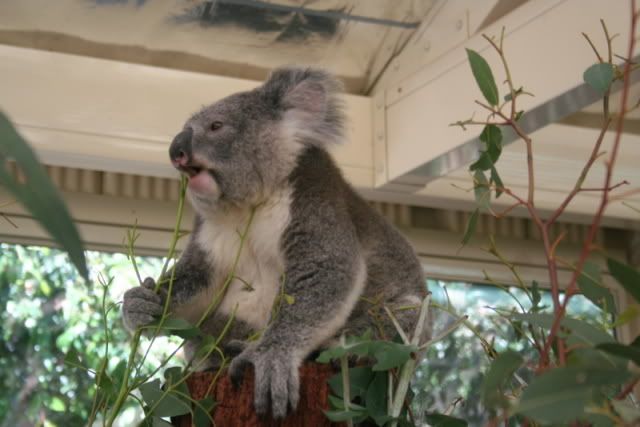 This is a wild kangaroo out in the bush.
There were beautiful flowers all around the park, these are native to the area.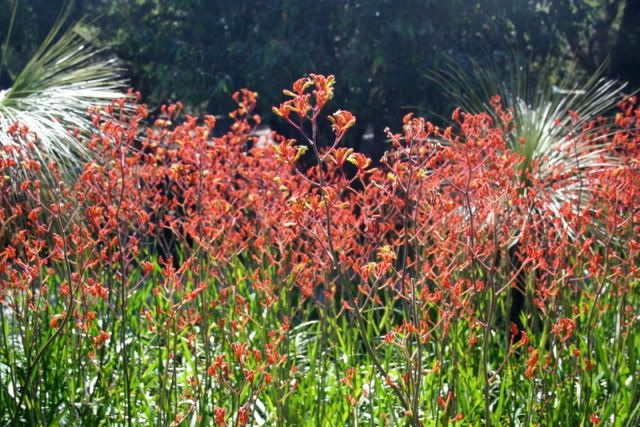 I loved this one, I don't know what it's called~ can you see the bees in it?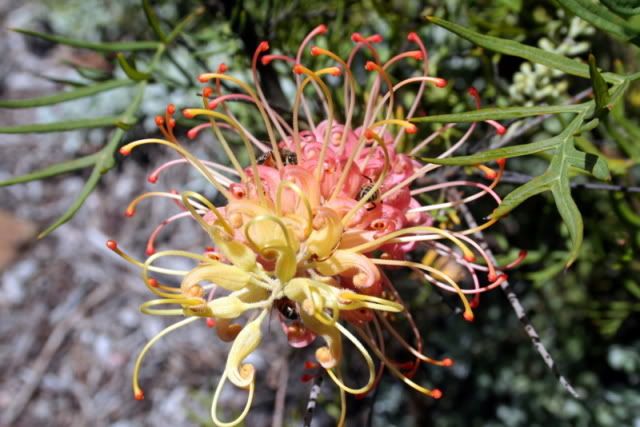 Back in the kangaroo enclosure, Andy was getting mobbed by some hungry inmates who could see that he'd picked up some pellets to feed them with!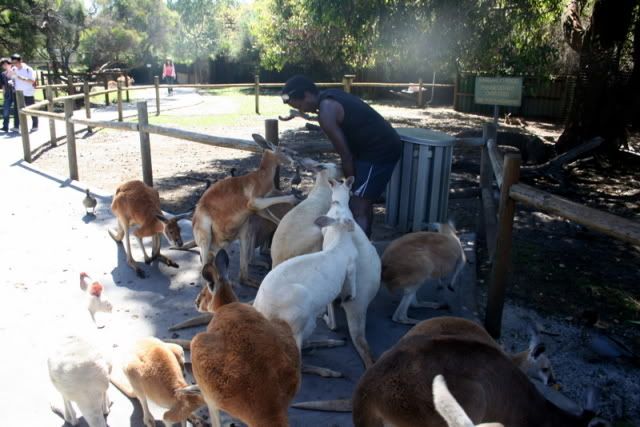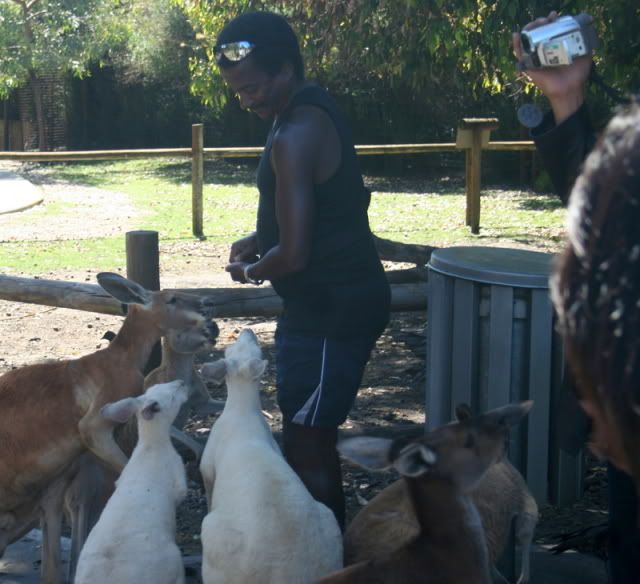 There was also a farm area where kids were enjoying feeding the lambs.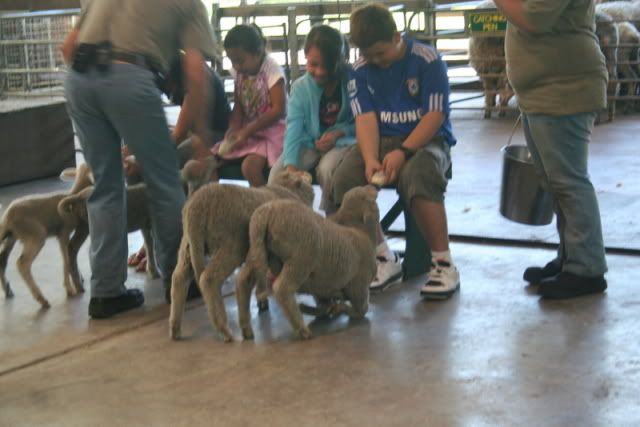 We then drove on to a place called Guilford, this was the pottery we visited there.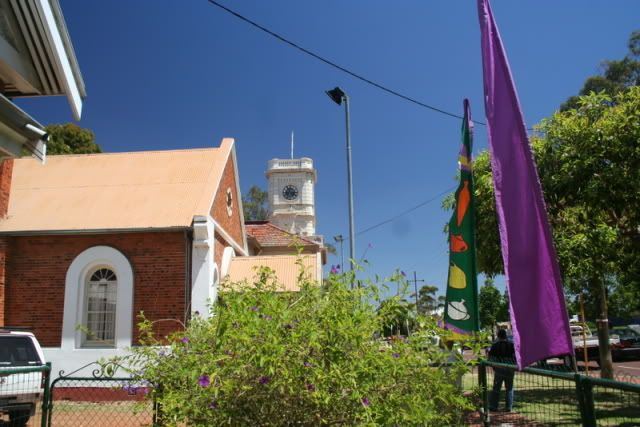 These are out of order, this is a fountain by the Bell Tower at Perth where we ended our day.
The skyline of Perth across the Swan River. Ron dropped us off there and we took a ferry across where he picked us up again.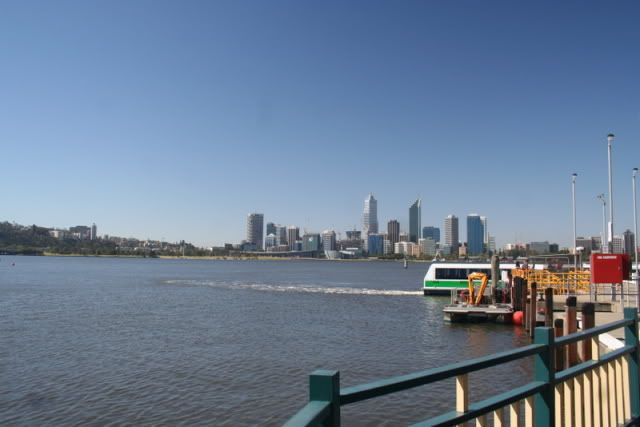 This is the Bell Tower on the shore of the Swan River. It houses the bells of St Martin in the Fields. English readers will know that St Martins' church is in Trafalgar Square in London. I wasn't aware that they'd given their bells away! They were mentioned in the rhyme Oranges and Lemons.
After our day of travelling around Ron very kindly took us to his house for a barbeque, he has a lovely wife and the cutest friendliest little chihuahua dog you could wish to meet! Chihuahuas are normally snappy little dogs over here but I met another one in Australia who ran over to say hello to us and rolled on it's back to have a tummy rub before it would go back to it's owner! Ron's little one was gorgeous, I picked him up and he licked all over my face. We had a great barbeque then went through the house out onto the decking which looks over the Swan river, it was such a wonderful setting to live in. Just look at these views! The first was looking out to the river where Ron fishes at night, he'd caught two bream the previous night.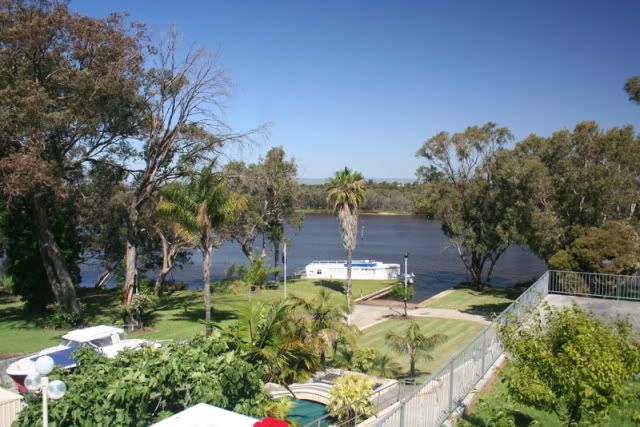 This was his swimming pool area, guess you need a pool with all the sunshine over there!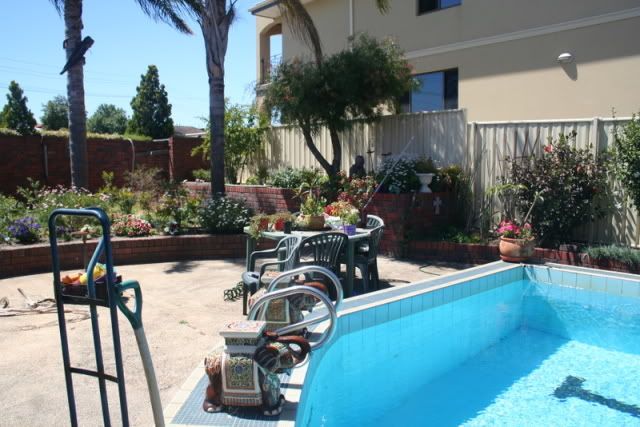 Looking back towards the house.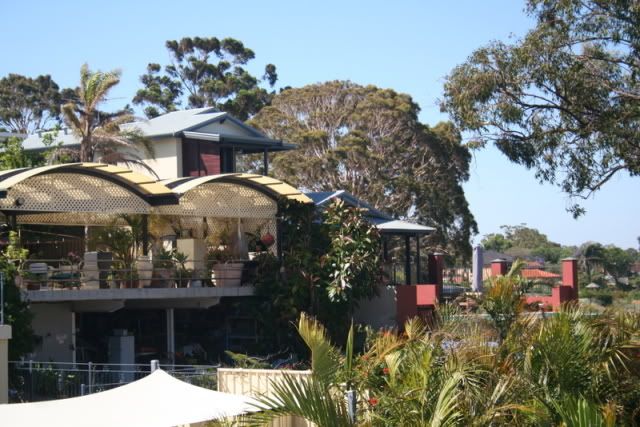 Going back in time to midday, this was a lemon tree at a vineyard we visited.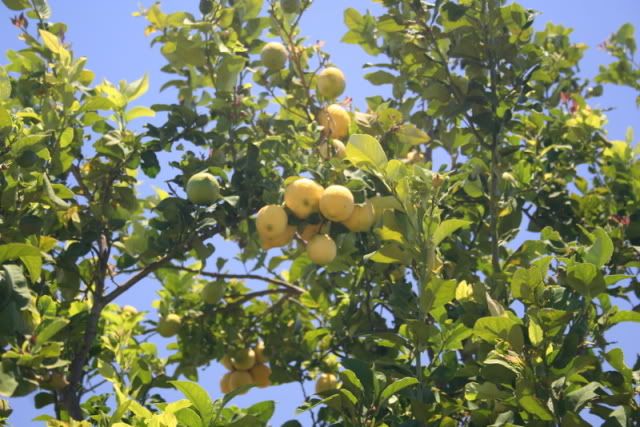 These were the vines, the purple tree in the centre is a jacaranda tree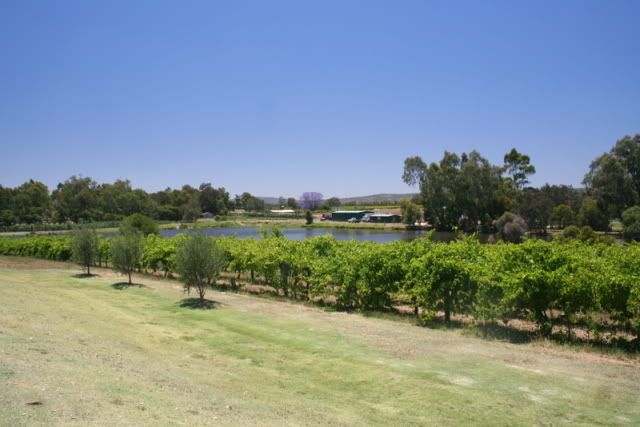 Perth again, with the Ferris wheel on the Swan river.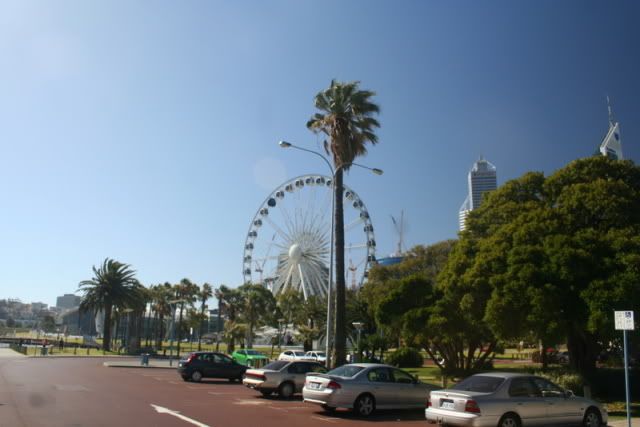 I hope you liked the photos as much as I liked taking them! Australia is a wonderful country, I'd love to return some day. If not I'd just like some of their sunshine!! Lol!
On a different subject, my regular readers may remember me talking of Mohamed, my tour guide in Madagascar last October.
I had a nice surprise this morning when I went online. Mohamed had emailed me to wish me a happy Christmas and a happy 2010! He's Muslim so doesn't celebrate Christmas himself so I thought it was really thoughtful of him to remember me. He asked if I remembered him; how could I forget someone who dragged me through the rainforests?! Lol! It was really hard to walk as I had a knee injury but Mohamed would always take my hand and help me up the hundreds of steps and slippery bits on our outings.
As I said earlier, I haven't got a day off from now until Boxing Day but I'll try to add more photos when I have time. They're already uploaded to Photobucket and only take a few seconds to upload onto here so I'll try to add more next week.
It's been snowing here today, I wish I was back in the heat of Australia, I miss it! Stay warm and have a good weekend.