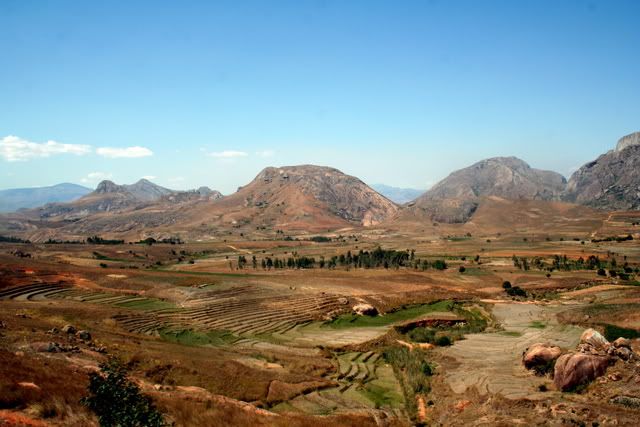 After a couple of attempts and losing my internet connection I finally got back online to get these photos on; the rest of the photos from the last entry. On our drive to the desert we stopped for a picnic lunch in a gap between two mountains. There weren't many trees and I didn't really expect any lemurs to live here although we were assured they did. We walked for a fair way before coming to some trees and spotted our first ring tailed lemurs! I'll show you some photos of the drive there now. This first one was taken early morning before the sun had come up fully. I'm surprised that these straw roofed huts withstand cyclones or maybe they were really nice to begin with and this is the effect of the cyclone damage!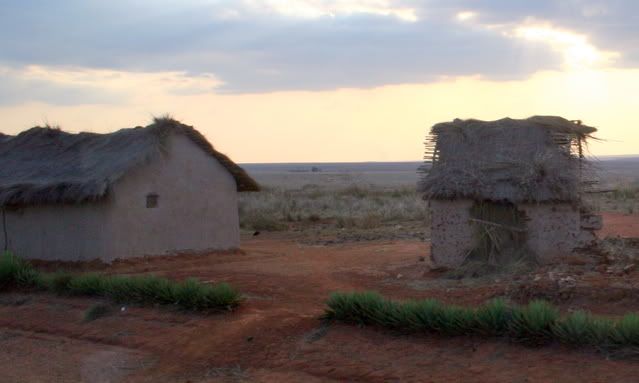 I thought this was a nice shot of agave plants against the dark red soil. Most of my photos of landscape were taken from a moving bus.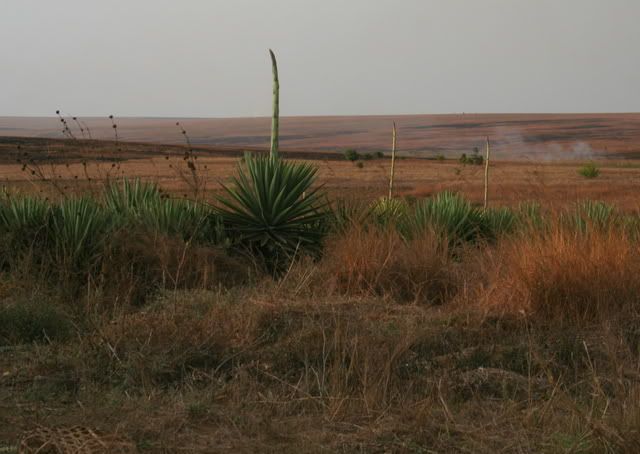 It's getting desolate here now as we approach the desert.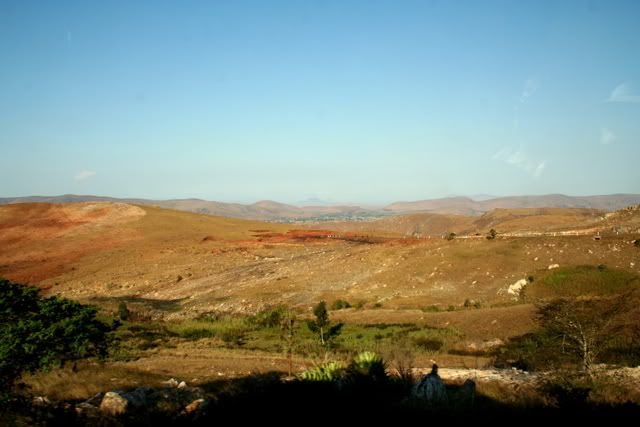 We stopped at this town where they still use oxcarts as transport.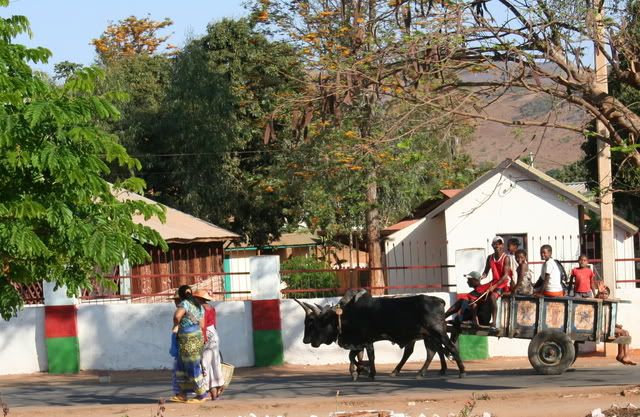 They also hang their washing out on the cactus on the main road! I suppose it sticks well with all those prickles!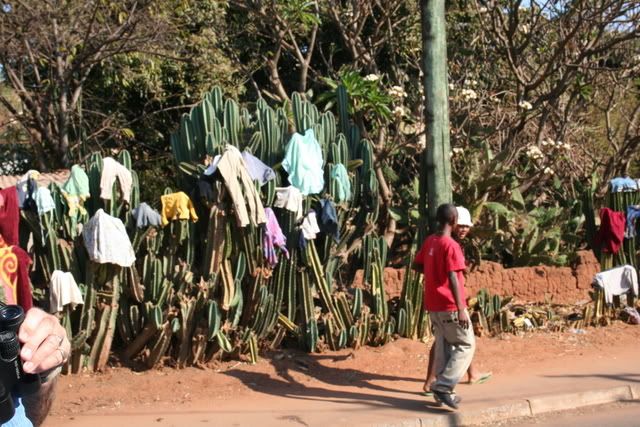 This is the place where the lemurs live, it doesn't look very inviting to a fruit eating lemur does it?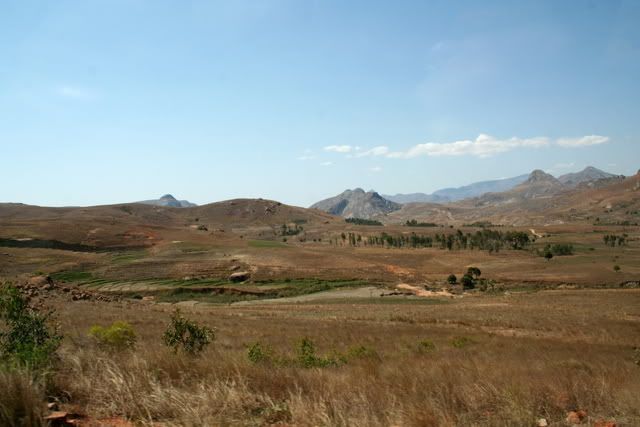 After our picnic these kids took over our picnic table to eat our left overs. They even ran to the waste bins and got out all the chicken bones and

yogurt

pots we'd thrown out to make sure there was no meat left on the bones and the

yogurt

pots were licked completely clean. We left a big bag of stuff we hadn't eaten for them with fruit, bread, bananas, cartons of juice etc in.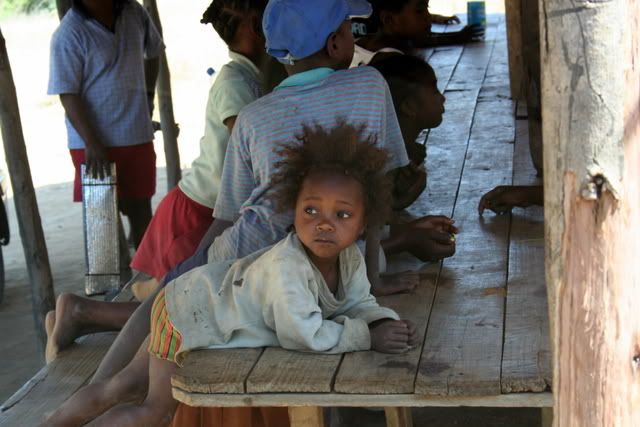 I love looking at rock strata! The patterns on it are beautiful. It's looking more like the

mid west

of the US now!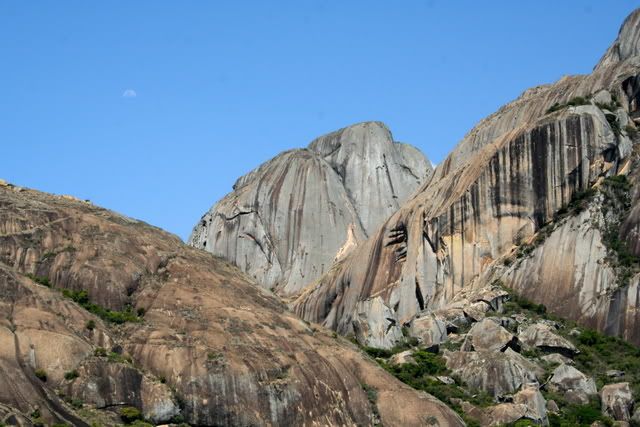 This family came up to see what we'd left of our picnic.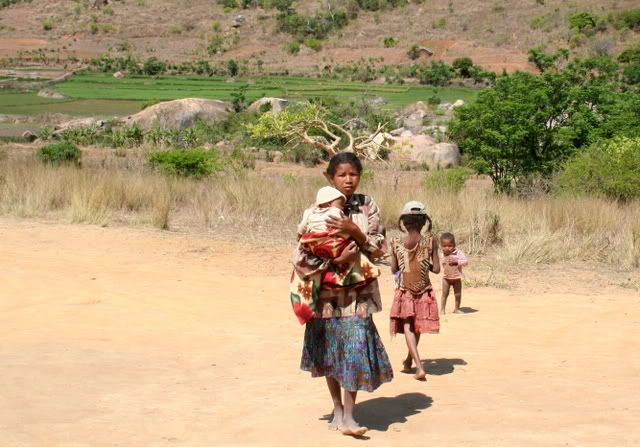 These kids were so sweet, the little girl on the right was adorable!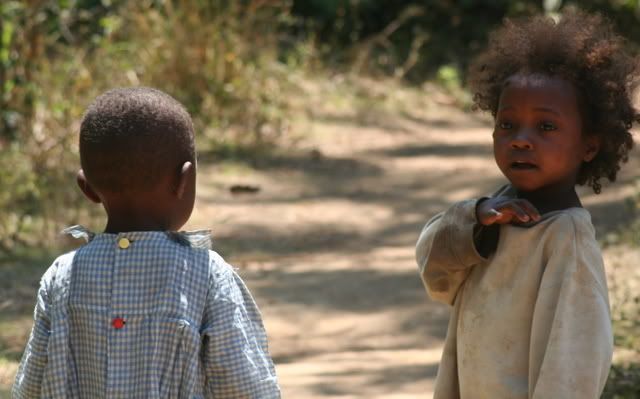 On our way to see the lemurs we found this lizard sunbathing.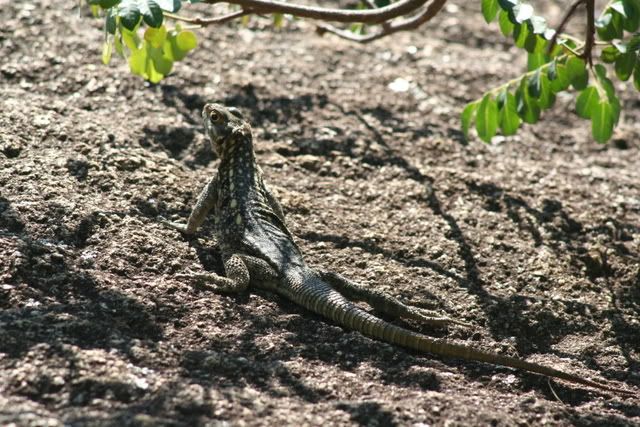 The children didn't mind being photographed.... and they didn't ask for money for it either like the kids in Peru did! I suppose having no shops cancels out the need for money.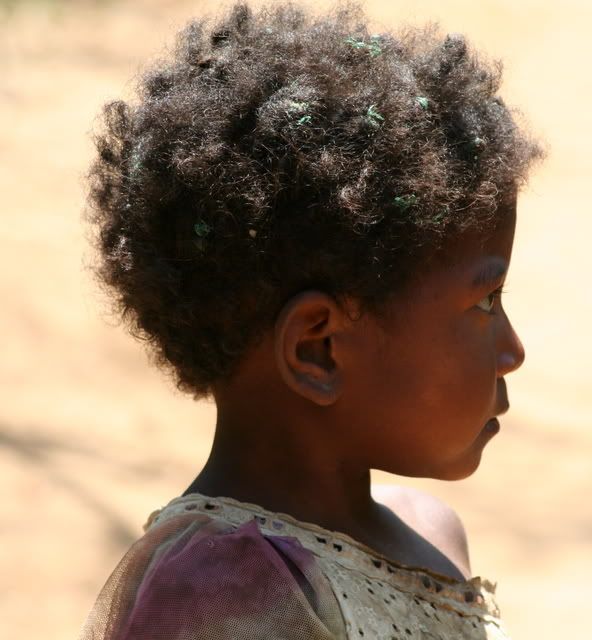 And here he is! Our very first ring tailed

lemur

!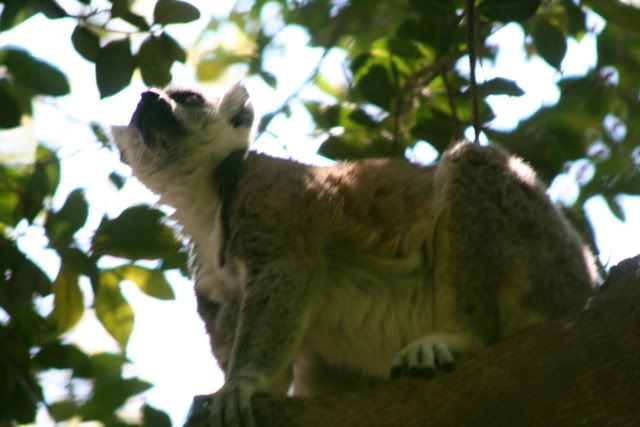 They're more like dogs than primates.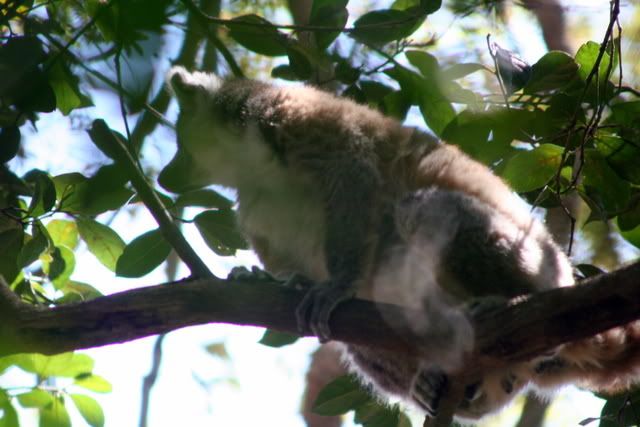 There's quite a few of them here, you can see by the number of tails in the photo!
It's really hard to focus through the branches so these shots aren't as clear as I'd like.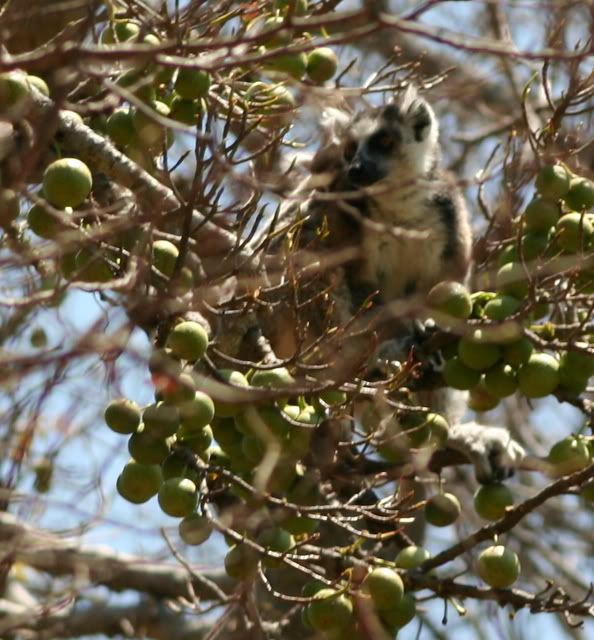 On our way back to the bus we saw another lizard.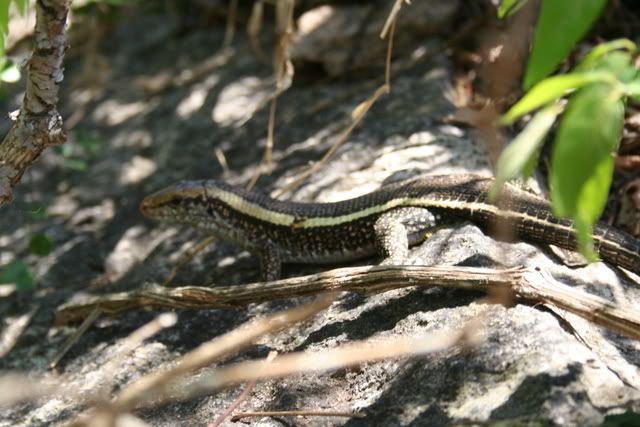 And this gorgeous chameleon, I love the way they move, it's all done in very slow exaggerated movements!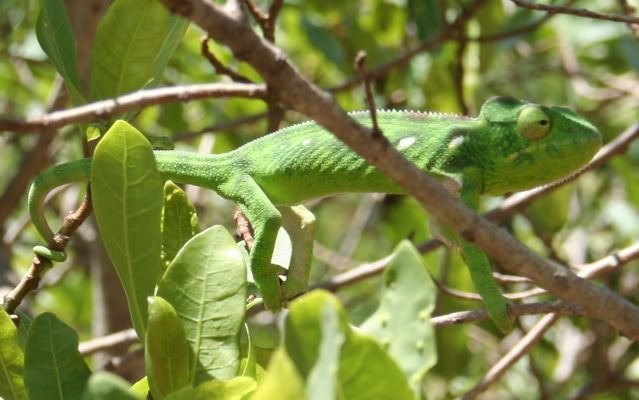 I thought he was so beautiful!
Snake!! He was about five feet long and went across the path right in front of us. Luckily nobody in our party had a phobia about them!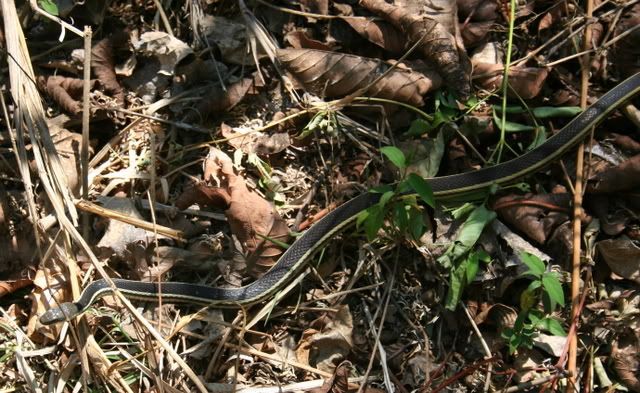 Last but not least ~ two very serious looking little boys. Little boys always seem to get dirtier than girls don't they?!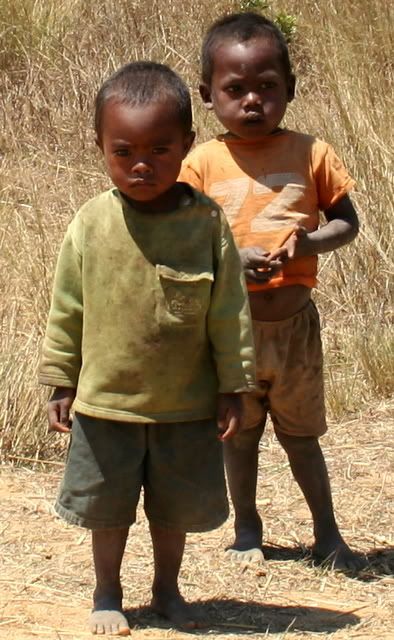 Again no signature tag, I'm just grateful I got through this without losing my connection again!
Have a good week and stay warm wherever you are. It's certainly cold here, it dropped down to 28F a couple of nights ago,

brr

!