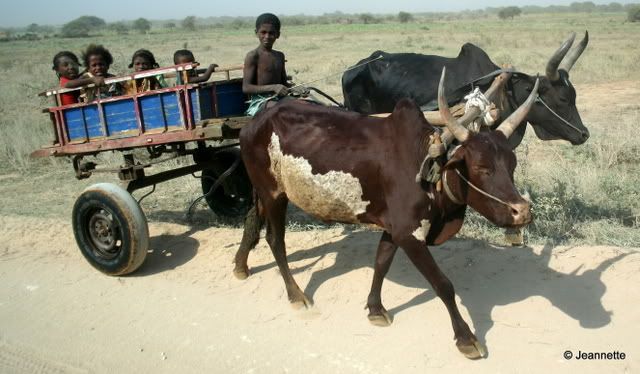 Hi again, tonight I wanted to add these photos that I uploaded to Photobucket this morning. I don't have a lot of time as I've spoken to my boss and she's agreed to change my shift. We're having problems at work as it's got so busy so I suggested I start earlier, at 10am, and work till 6.30pm. She said no, she wanted me around when my evening staff are there but she agreed to let me start two hours earlier at 11.30am and finish at 8pm instead of 10pm. No more sitting up till 3am for me!
Anyway, on with the journey to Tulear via Ifaty where we stopped for dinner. The photo above shows how easy it must be to control the zebu, kids are able to drive the oxcart. They seem very docile creatures, these two are males as they have a hump on their backs.
Everywhere we went we had people waving to us. They realise that tourists bring money into the country and help the economy. I read that Madagascar is the fourth poorest nation in the world.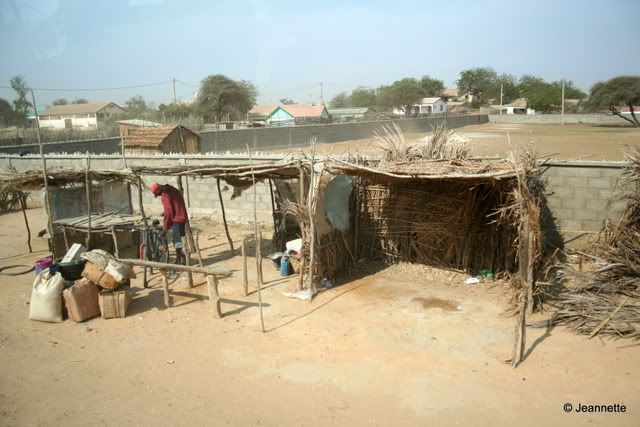 This stall was in the centre of Ifaty whew we stopped for dinner.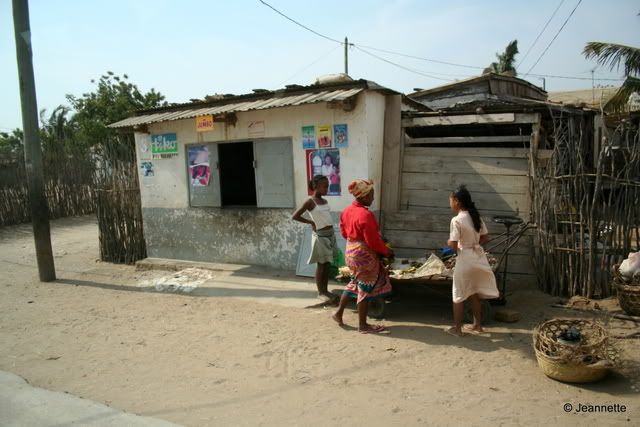 This was our table companion for dinner! Lol! She was very well behaved and didn't ask for food. The owner had told us not to feed her as she was very well fed! She seemed content to sit at my feet and pose for photos!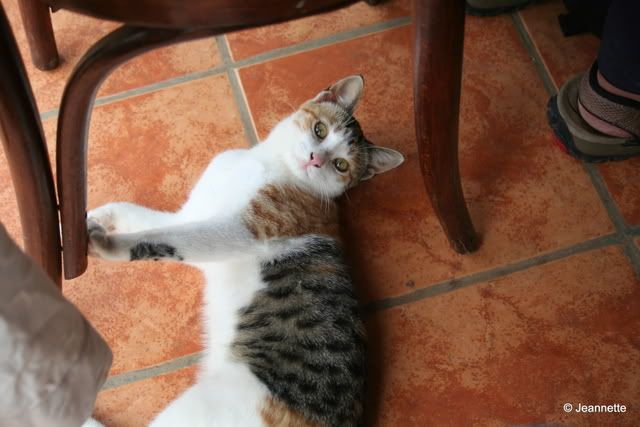 I was always surprised that these huts remained standing, there was a terrific wind on the south west coast.
Very few cars used this road, not surprising as it was sand with no surface at all.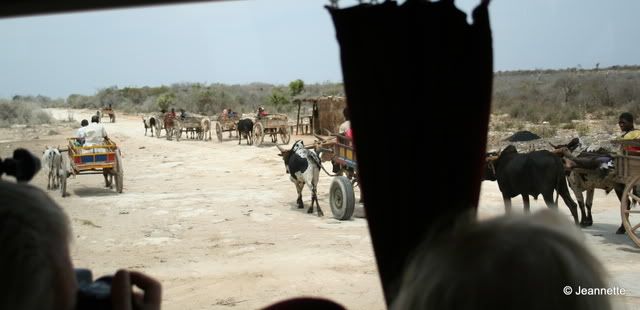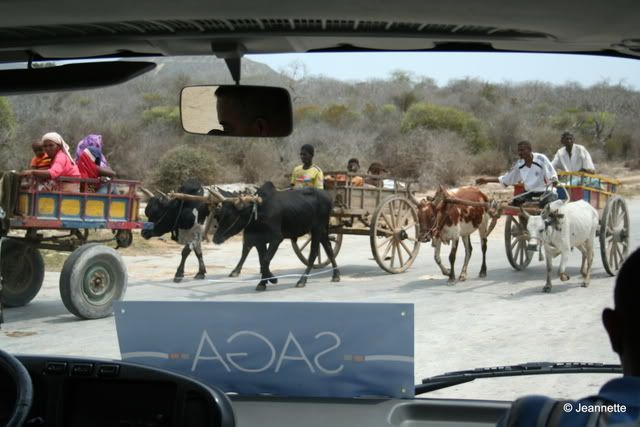 I loved the zebu, they're very highly prized here.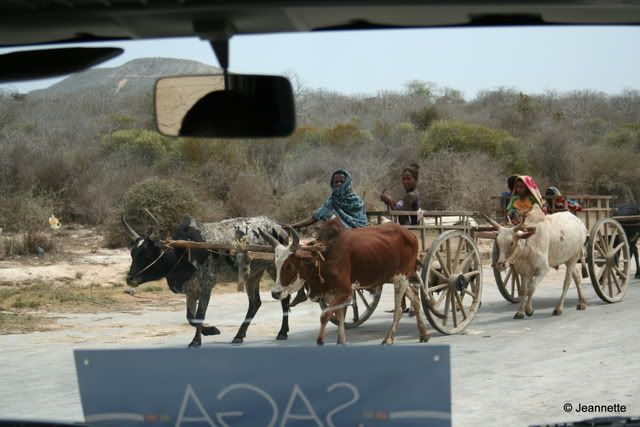 This photo should have been back further, it's a sign for a sapphire company. There are a lot of sapphires in Madagascar, most have been mined by the French when it was a French colony.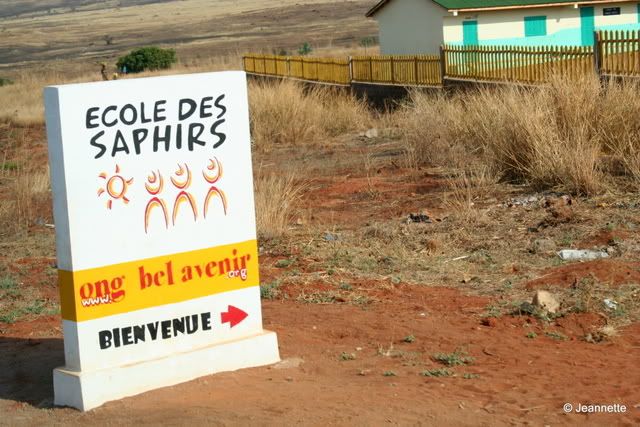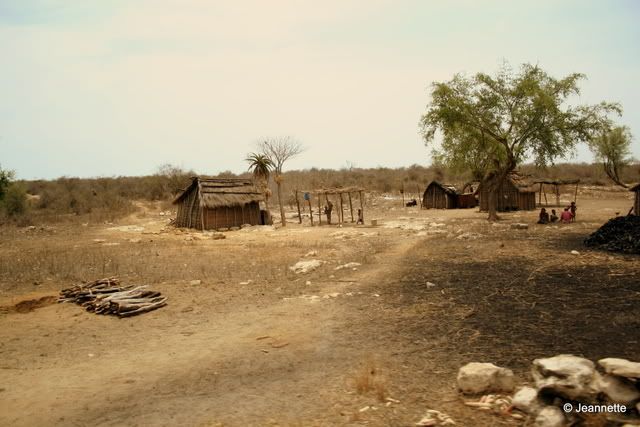 These people never seem to stop smiling. They have nothing but that's the way they've been brought up. They don't consider themselves poor ~ they have enough food to eat and a lot have mobile phones and shelter. I went home determined to clear my clutter, it made me aware of how much we have that we don't need!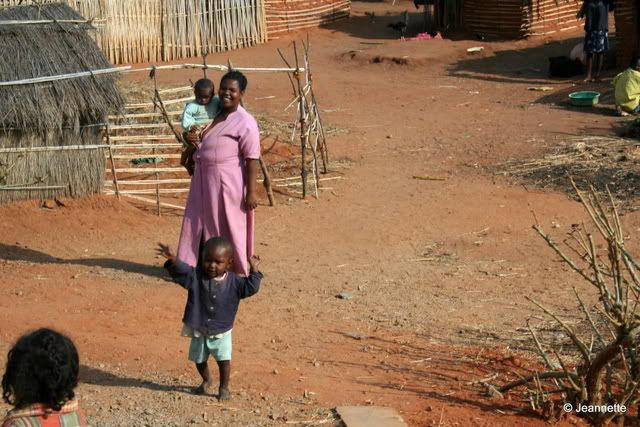 That blue on the hut is plastic sheeting to make the huts waterproof.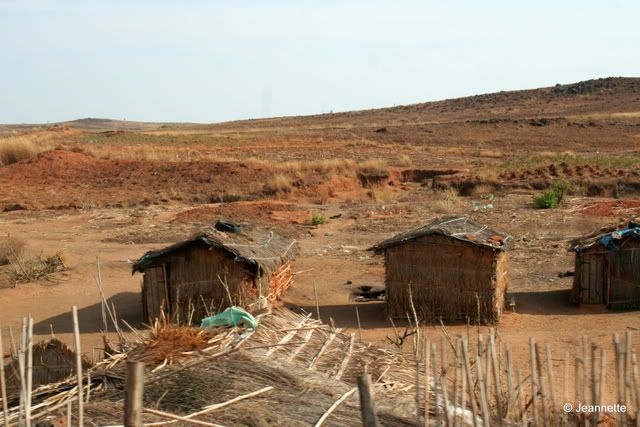 I just couldn't even begin to imagine living in one of these huts!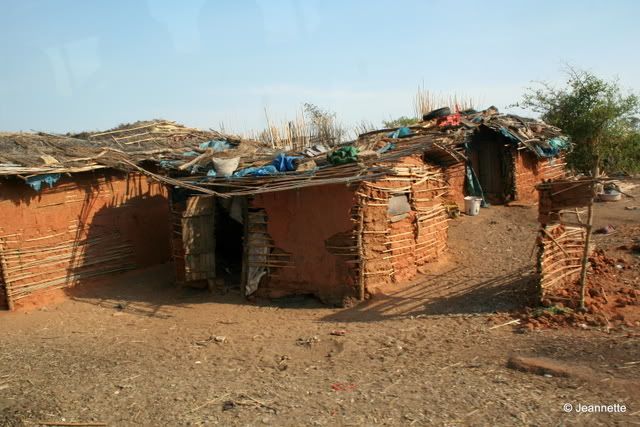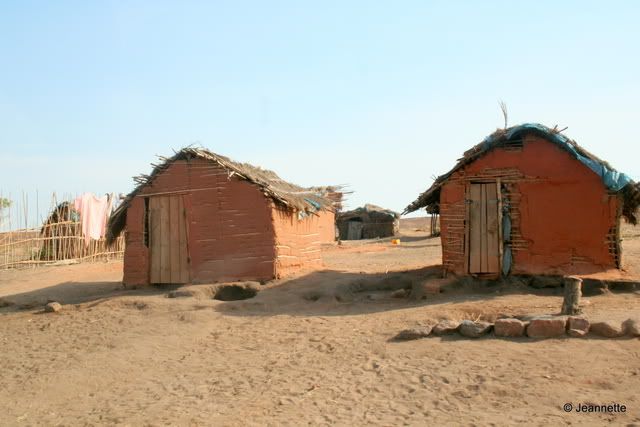 A close up of the patched up roof, do you think your neighbours would complain if you did this to your roof?!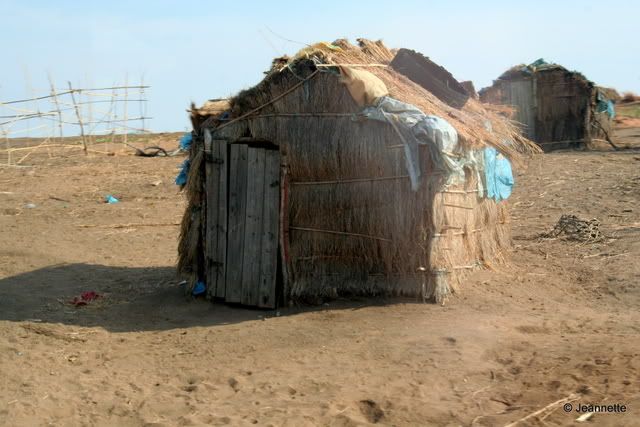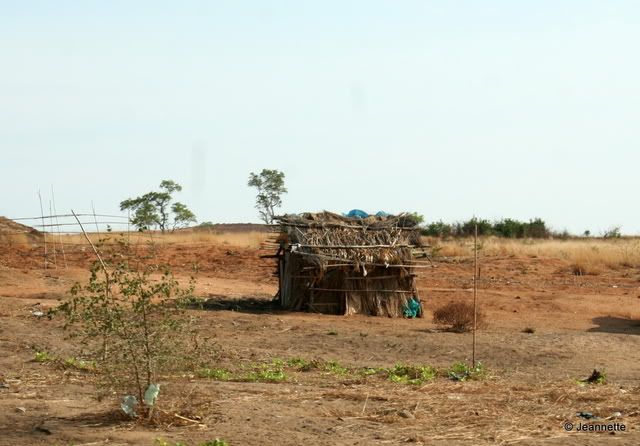 This looks almost posh compared to some of the other huts!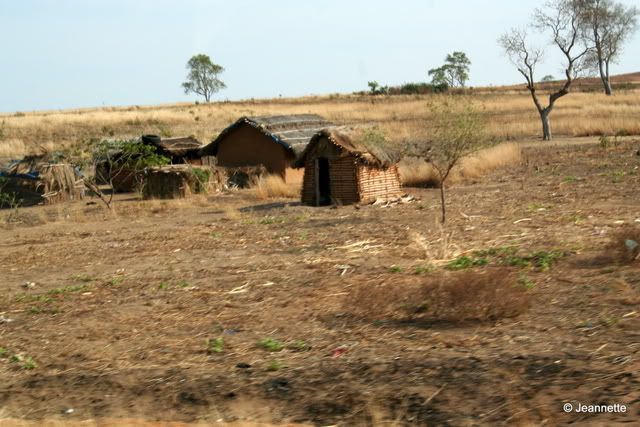 We were crossing over a bridge here. This used to be a river but it dried up through lack of rain, it's now just sand. The lady you can barely see in the centre is digging for water. These people dig down up to twenty feet looking for water, makes you so grateful that we have rain doesn't it?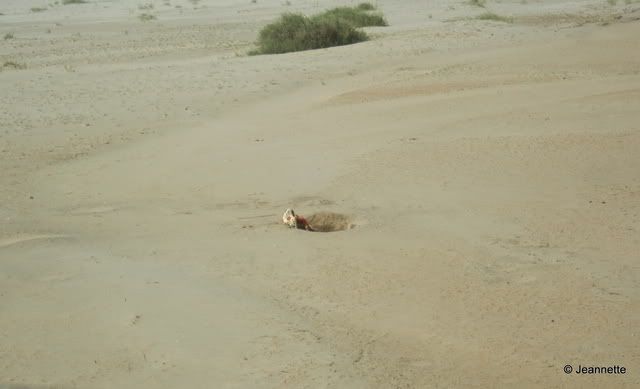 This close up of her you can just see the top of her head. It must be so hard digging soft sand like this.
This village further down the road is lucky, they have a well for their water supply.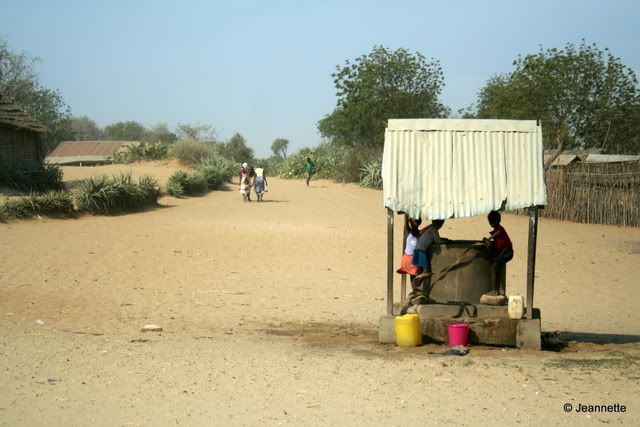 Blogger have decided I've added enough photos and won't let me add any more! I'm finishing off here and getting to bed. I'll have to add the last few of our journey another day, we're almost at the beach!
Have a good evening/night. Can't even add a signature tag!
Jeannette xx