Hi everybody, I've come back to add these photos of the desert at Isalo National Park in Madagascar. I uploaded them to Photobucket this morning while I was getting ready for work so all I had to do was add them tonight when I got home.
This was the part of the trip that reminded me of the 'Wild West'. No sign of a wagon train out here but the heat was relentless. We walked for six hours in total in 100 degrees of heat. Luckily I love hot weather, it was my favourite walk of the whole trip! Our destination was an oasis far into the desert. The start and end of the walk was up very steep steps ~ if you could call them that! The steps were almost 18" high and very uneven with nothing to hold on to. Mohamed held my hand and pulled me up most of them, I wouldn't have got up them otherwise with my bad knee and chest infection!
In this area were a lot of graves. Madagascans bury people everywhere, there are no cemeteries and they don't dig a grave. They just lay a person down on the ground and cover them with stones; so everywhere you go there are mounds of stones. You'll see a few in the photos! They also place the dead in caves high up on the rocky outcrops, the cave entrance is covered with stones.
I'll just add a few words to each photo. Some, like the next one are just views and need no explanation.
This next photo shows a couple of the graves I've just mentioned.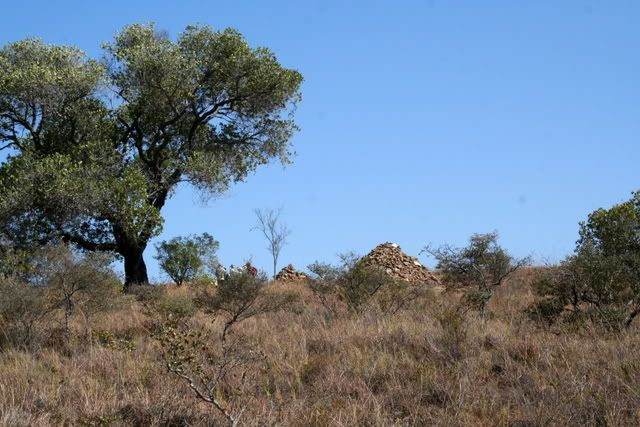 This is Toussaint, our guide for the day. He's standing in front of a cave which is also a tomb.... see the stones behind the tall grass in the centre?
At first sight this looks like a dead tree, the lower 'branch' is actually a stick insect, his head is to the left. Such wonderful camouflage! We'd never had seen it if Toussaint hadn't pointed it out!
Here's a praying mantis we would have missed too!
No sign of the wagon train yet!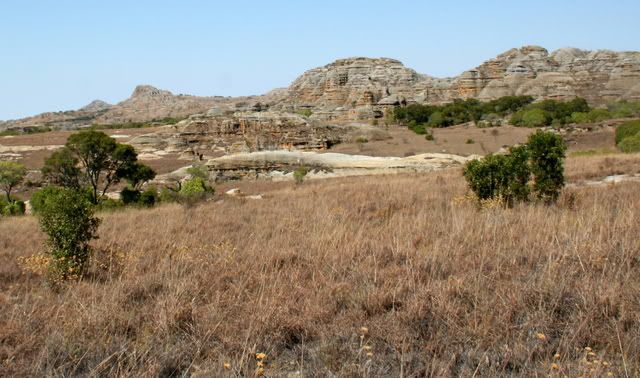 This rather nondescript little flower which has been nibbled by insects is used to make cancer drugs. I've forgotten it's name but it looks so unimpressive I was surprised to hear it could fight cancer!
We're heading for those rocks in the distance! I'm sure they kept moving further away as we walked towards them! It was lovely to walk under that blue sky!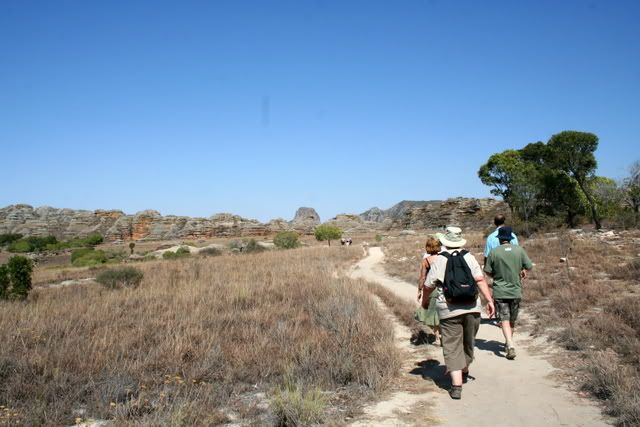 This plant is commonly known as elephants' foot but it's proper name is pachypodium!
We're going to climb those rocky outcrops! I wasn't sure if I could do it but Mohamed pulled me up there! Lol!
The views all round were beautiful.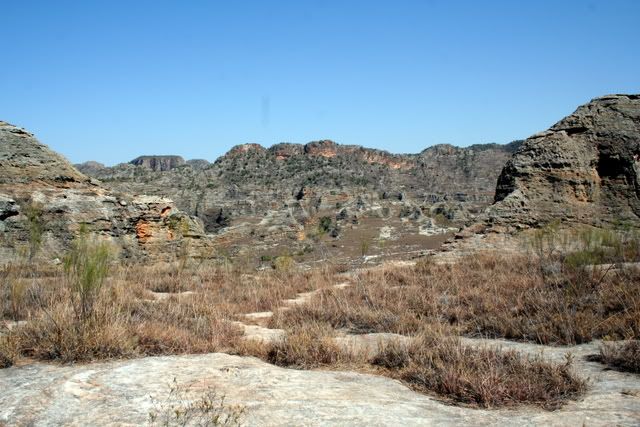 It still looks like Arizona to me!
After a rest to get our breath back and have a drink of water we carried on across the desert towards the next horizon, below.
The rock strata was amazing, you can see in the next photo the erosion that's made the outer part of the rock crumble leaving the sandstone exposed.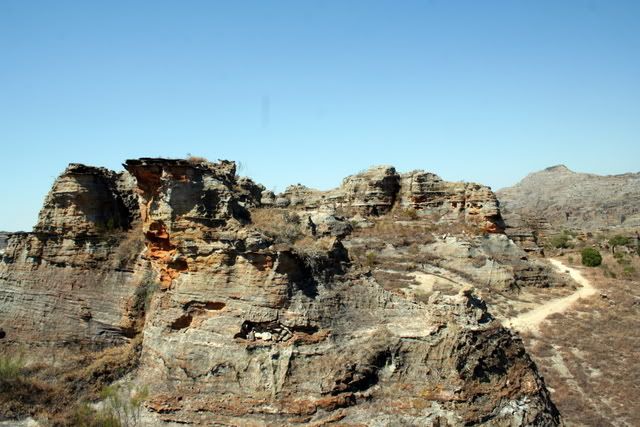 This next photo shows it off better. Inside this eroded part you can see that lichen is growing on it.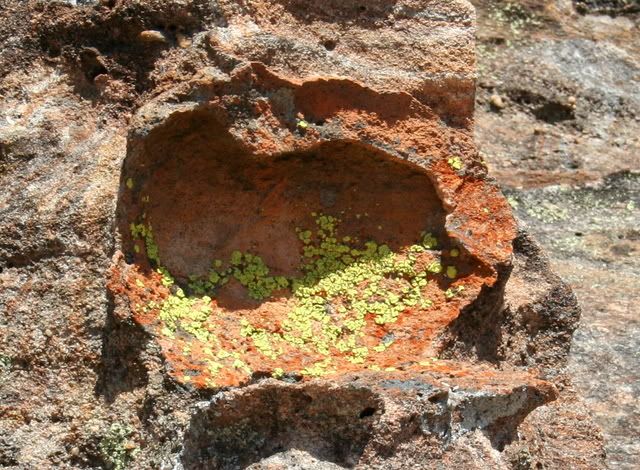 Just to the left of our tour group you can see another burial site.
This rock is really eroding away, I find it so fascinating. The world is changing all the time.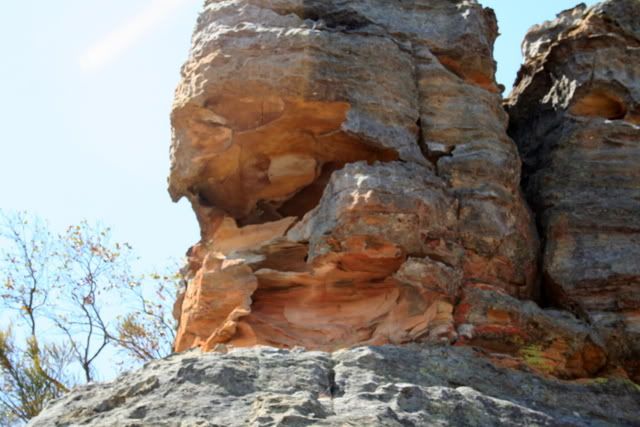 This next photo is interesting. We asked Toussaint why we were passing stones with numbers marked on them. He said they were markers to guide people to the viewing site of the total eclipse of the sun on June 21st 2001. Here's a piece I copied from a website about it, The Relais De La Reine was the hotel we stayed at in Isalo NP.
After those precious 140 seconds of totality the sun will reappear and gradually move clear of the moon's shadow. Then it's time for the first of those freaky add-ons. At the precise moment the eclipse ends the red sun will set into the Madagascar channel, a spectacular sight that could be accompanied by a green flash - a phenomenon known as the green ray.
Four minutes after the setting sun is eclipsed over Morombe the spectacle is repeated in the skies over Isalo National Park. This is Madagascar's answer to Yellowstone, a vast area of sandstone rock formations, cut through with lush canyons where lemurs hide in the trees. High on the massif of Madagascar's backbone, the other-worldly setting of Isalo makes a perfect eclipse viewing platform.
A new addition to Isalo is Madgascar's most elegant hotel. If you arrive at the Relais de La Reine at sunset you're likely to see small groups of farmers perched on the bulbous rocks of this moonscape staring at the hotel as if it had fallen from the sky.
This chameleon didn't think we'd spotted him!
As we neared the oasis we saw this coffin sticking out of the rocks. It's unusual to see a coffin but we were assured this one had had the body removed and buried elsewhere. It just seems weird to leave it poking out of the rocks like that!
I loved these rock formations, they're slowly eroding away. I suppose in a few thousand years time they'll be turned into sand and be blown across the desert!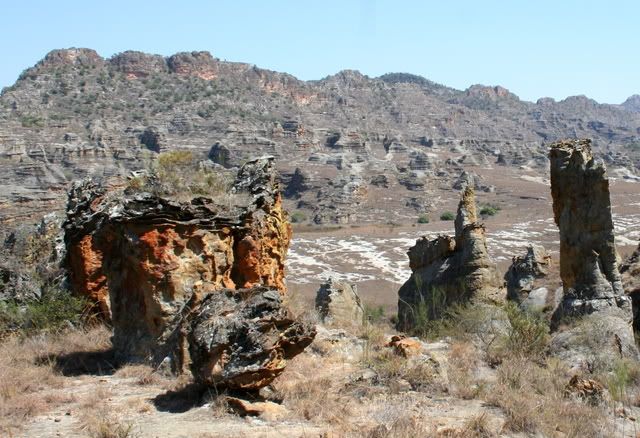 This is a wild bees nest in the tree. It looks like one of those big fungus that grow on trees.
This trees roots were completely exposed. I love how they wrapped themselves around the sandstone to support the tree.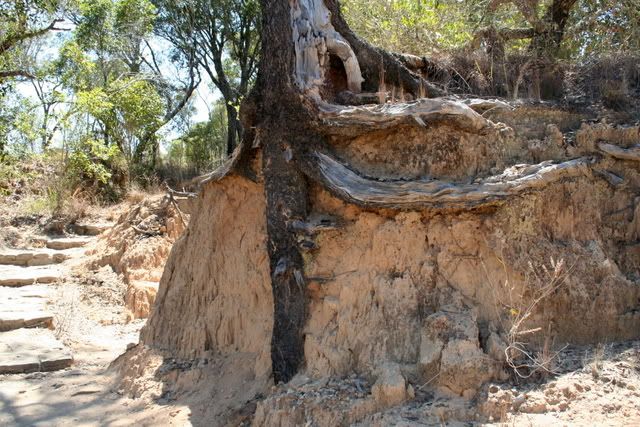 We've finally reached the oasis. You'd never believe after the long walk through such barren land that there'd be something like this hidden away!
Lots of people down there swimming in the natural water hole.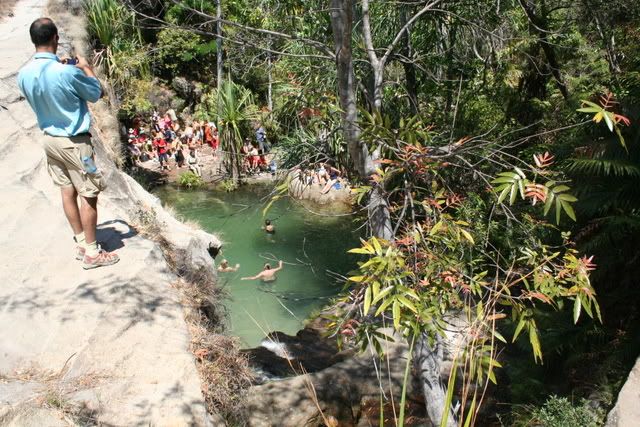 Mohamed went down to swim, that's him waving!
I was quite happy to stay on dry land and take some shots of the foliage.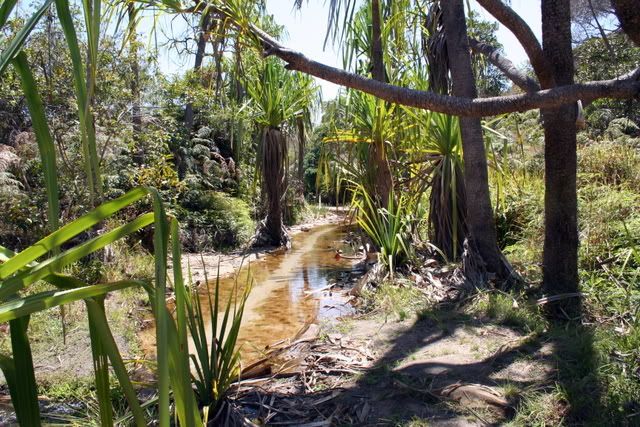 It was so pretty here, I could have sat here all day but we had to move on.
It was the same route we had to take back to the bus. It was such a scenic area that it didn't seem to take long, lots of things to see on the return journey!
We didn't go back to the hotel for lunch. We'd picked up a picnic lunch and headed for another part of the park where lemurs lived.
So the next entry will be about the ring tailed lemurs of Isalo NP. I hope you liked seeing what reminded me of the wild west. There was a lack of wild life but the scenery more than made up for it!
Take care, I'll be back soon. It's taking longer to add these now I'm back at work but I'll get there!