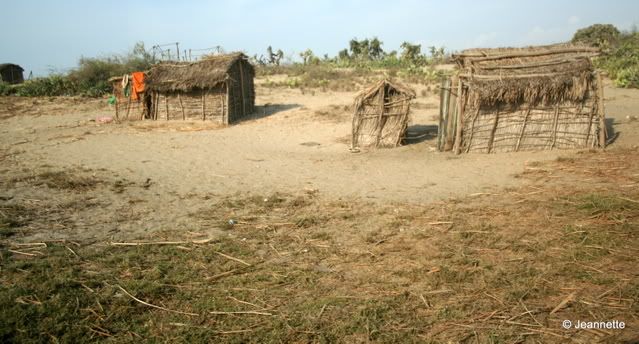 I'm adding the rest of these photos while I have time. I've got to spend this weekend doing my NVQ coursework, catching up with the parts I missed while on holiday, then off sick for a couple of weeks. It has to be done by Wednesday. I may not have a chance to add the beach photos for a few days. Next weekend I'm working on Sunday and seeing my grand daughter on Saturday so I'll be very busy then too.
So on with the journey to the beach. The huts above have been shaped by the wind, they're all on a funny angle but surprisingly still standing!
On our way down the long sandy road the wind whipped up a sandstorm, it made driving difficult and we were told by Mohamed that we'd have to get out and walk some of the way as the bus wasn't a 4x4 and would sink into the sand. It'd also conserve some of the engines' power. This photo below shows the poor visibility due to the sandstorm.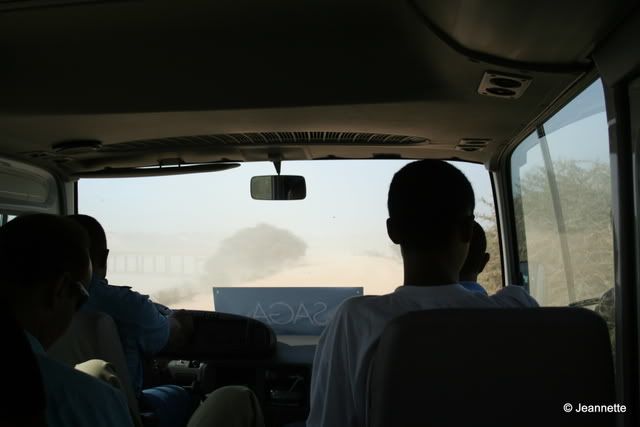 Off the bus we got and started walking, you can see by our hair how strong the wind was! The sand felt like glass hitting us. I know now what it feels like to be sand blasted! Not very nice!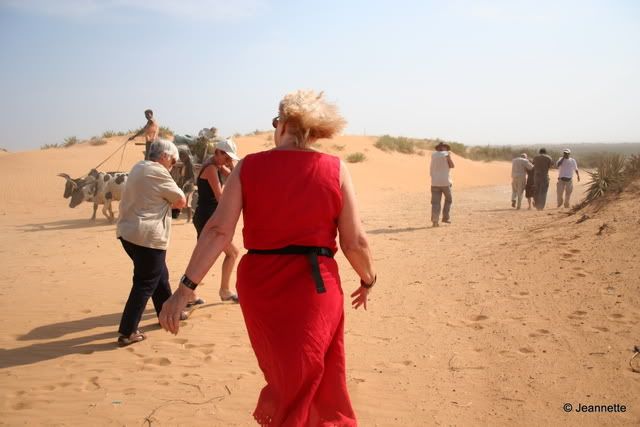 This is the sand dunes we had to climb over to get to the beach. I did mention to someone that I couldn't imagine anything nice to stay in at the end of this road!
It was quite a walk, different from any other holiday experience!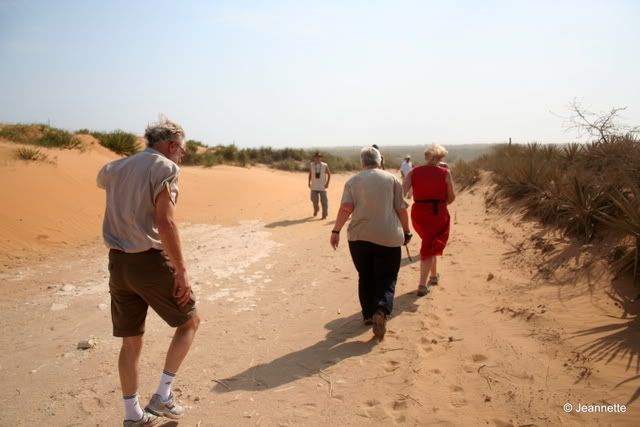 At least the sand was clearing, our arms were stinging from the sand hitting us!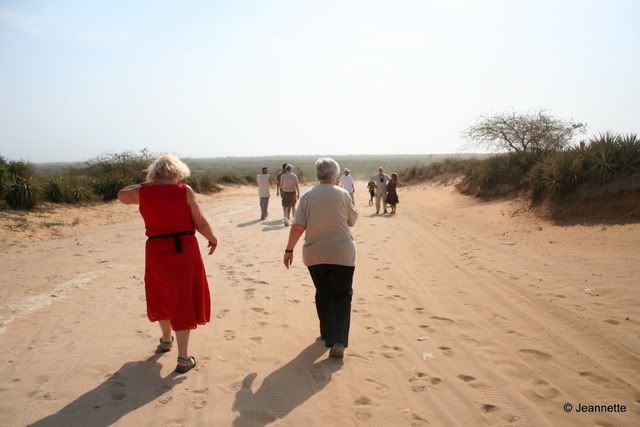 We got back on the bus for a while until we saw the lorry in front of us get bogged down.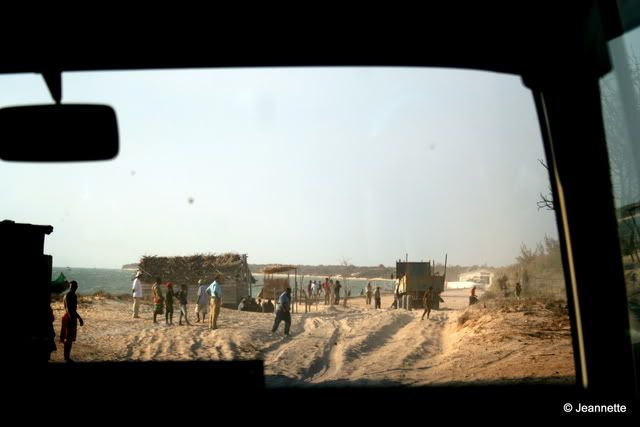 Ian and Andreas digging our bus out of the same place as the lorry got stuck! You can see the depth of the sand, it was like fine powder ~ very easy to get stuck in!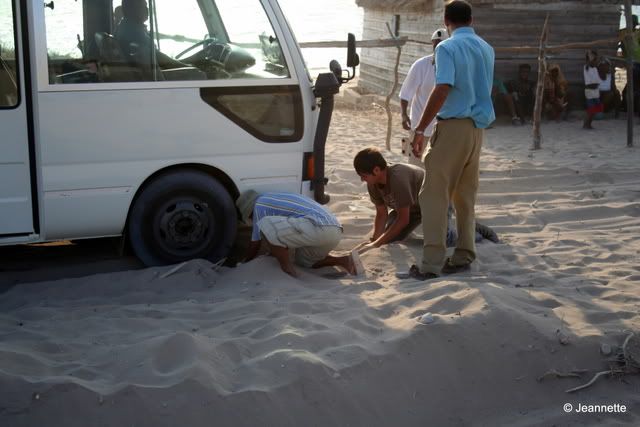 These kids were watching us. The girl has made a kite from a plastic carrier bag, funny how kids can be so inventive when they have little else to play with.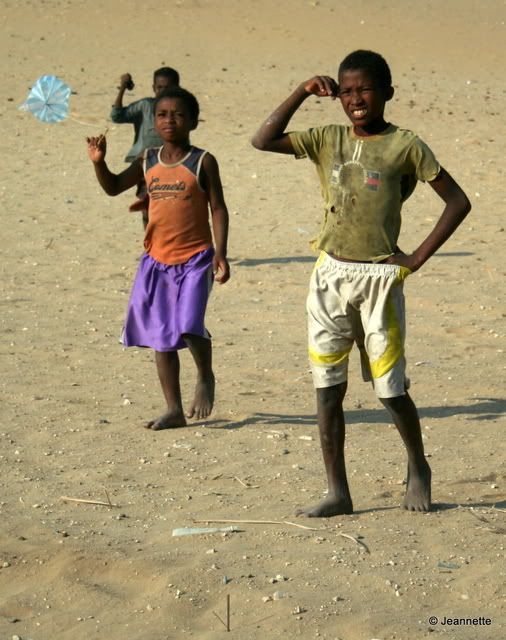 No sign of our hotel yet, I was beginning to despair!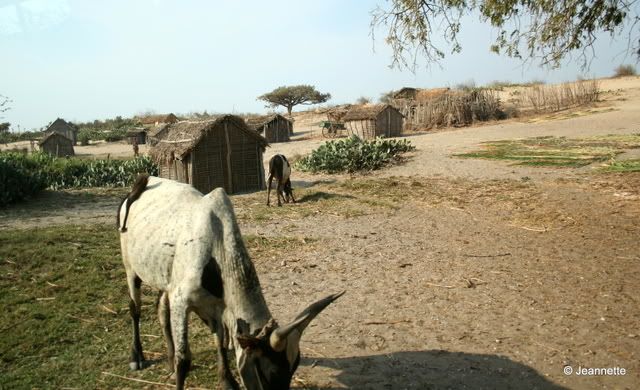 Had to get out and walk again as we were nearing some more deep sand.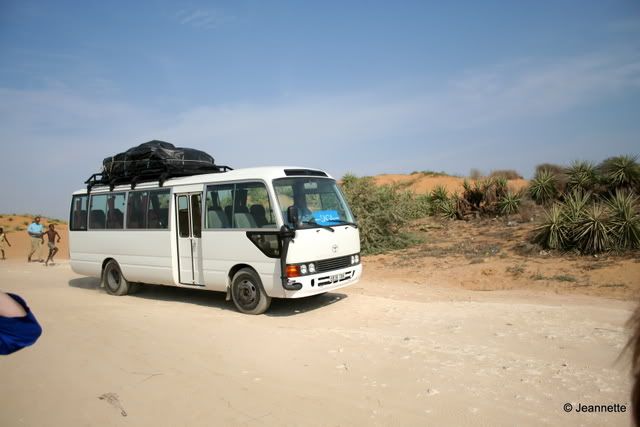 Oh well, it was a nice day for a walk!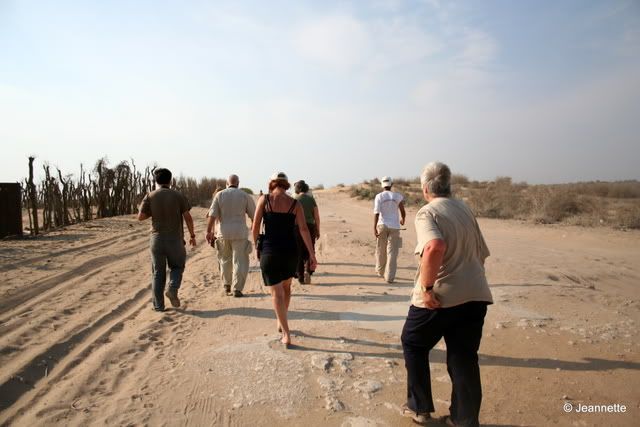 The sun was beginning to go down as we walked and we came to the sea. It looked rather inviting, you'll never know how thirsty you get in a sandstorm!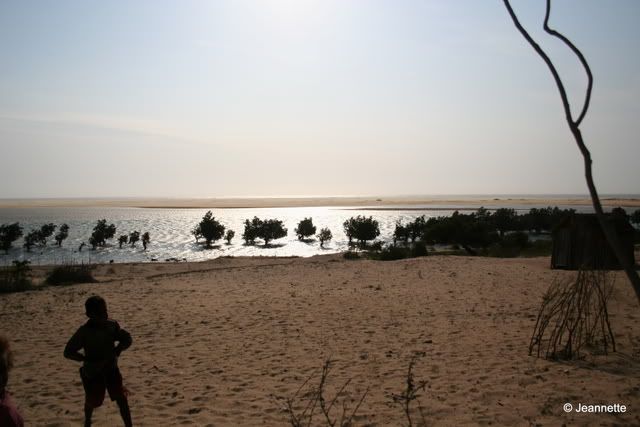 So we'd made it to the beach ~ at last!
I'll leave this entry here and next time show you the beach photos. The hotel we stayed at was beautiful. The grounds had straw roofed huts, two storeys too. It felt like we'd arrived in paradise!
I hope you all have a good weekend. Thanks to

Donna

for the beach graphic tonight, I can always find one that suits an entry from the stash of stuff Donna does!